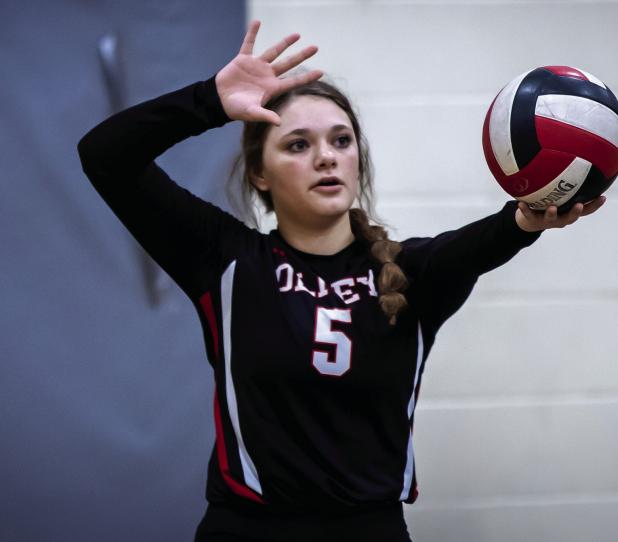 Volleyball District Honors
Thu, 01/19/2023 - 12:00am
The Olney Junior High has some fierce fighting Lady Cubs this year on the OJH Basketball squad. Your OJH Lady Cubs for the 2022-23 season are: Red Team: 4- Ana Vasquez, 10- Kristen Fields,
11- Kynlee Lauderdale, 20- Jaliyah Allen, 22- Aubree Englishbee, 23- Marlee Lane, 34- Serena Rockmore; BLACK TEAM: 3- Katy Rosales, 4- Mackenzie Berngen, 5- Braelyn Casteel, 10- Arlette Olvera, 11- Ava Stewart, 20- Natalie Simmons and 22- Kiesly Mullins. Fight hard, have fun and make plenty of memories this season, Lady Cubs!
Abby Guerra #4 OHS Lady Cub was honored with being selected to the Second Team All-District Volleyball team. Guerra was a fierce competitor at the net and helped lead the Lady Cubs to the Playoffs. Congratulations!
#9 Jaylee Bowers of the OHS Lady Cubs Volleyball Team was chosen for the First Team All- District. Bowers was a driving force behind the team's successful 2022 season, making it to the playoffs for the first time. Academic All-District Honors for Lady Cubs included: Katelynn Bailey, Jaylee Bowers, Peyton Elliot, Brianna Galindo, Abby Guerra, Ellie Hinson, Aubrey Mahler, Emily Marquez and Cate Rodriguez. The success of the Lady Cubs season was a team effort and all the Lady Cubs worked very hard, played with heart, grit, and determination. Congratulations to the Lady Cubs! Fight on Lady Cubs!!!
Ellie Hinson #10 OHS Lady Cub played with plenty of heart and drive during the Lady Cubs 2022 Volleyball season and it showed with an Honorable Mention to the All-District Team. Congratulations!