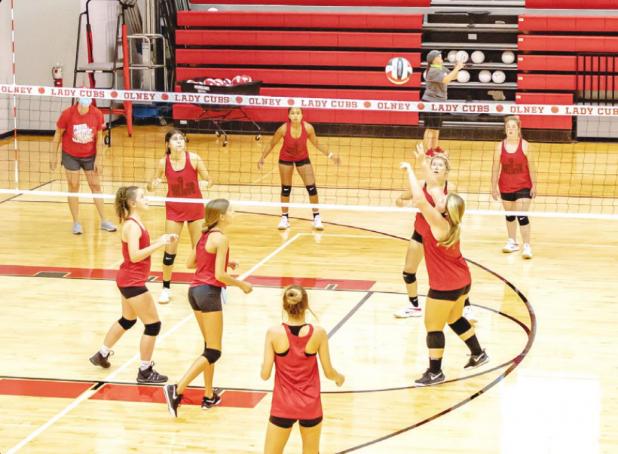 Lady Cubs Gear Up for the Season
Thu, 08/20/2020 - 12:00am
By:
Ethan Nickel, Editor Editor@olneyenterprise.com
Olney Lady Cub volleyball is back and is now practicing for the upcoming season. The Lady Cubs are back with another year of experience, with all volleyball players from last season returning to this year's squad. "Last year was a big learning year for us. Half of our team had never played volleyball before," said Coach Pulliam, who is going into her 2nd year as the Head Volleyball Coach for Olney. "This year just in the few short days we have been practicing already, they look phenomenal compared to last year," Pulliam added. Pulliam is building a volleyball culture in Olney, after several years with Olney not having a volleyball program. Pulliam added that she along with the rest of her staff and players are very excited for this season. The Lady Cubs will not be in a district this year but will be competing against schools all across the surrounding area and North Texas. Coach Pulliam said she has her eyes sight on winning more games than they did last season and will continue to get better and grow as a team. "Our players still learn on a day to day basis and you can really tell that they have absorbed it within the last year. It is pretty neat to watch them advance so quickly," Pulliam added.
The team has been in full compliance with COVID-19 guidelines given by UIL. In early June, UIL began letting the teamwork out over the summertime and Mon day began "Two-a-days", which began on schedule. "UIL and TEA have really set the guideline pace for all sports….football, volleyball, cross country," Coach Pulliam said. So far, all Olney athletics are a go to start on time as guidelines are currently being met. "We are all hoping that we do not get shutdown as long as everyone is doing what we are supposed to be doing by maintaining all of the rules that I have been set out, then we should be fine," Pulliam noted. UIL did take away tournaments for this upcoming year to try and limit exposure due to COVID-19. Olney had previously scheduled three tournaments before the pandemic began.
Last year was the first year for Lady Cub volleyball, and the players are excited to continue to set forth a tradition of their own that they will potentially set for high school students in the future. Currently, Olney volleyball have both freshman and Junior Varsity teams as they continue to improve for the future. The Junior Varsity squad is the highest team that Olney currently has, but the goal is to have a freshman, Junior Varsity, and a Varsity team next year and Coach Pulliam continues to build a culture of volleyball here in Olney. The Junior Varsity team will entail six Juniors and seven Sophomores, while the freshman team will be all freshman. Coach Pulliam ended by saying "I'm excited and I am excited for our players. "