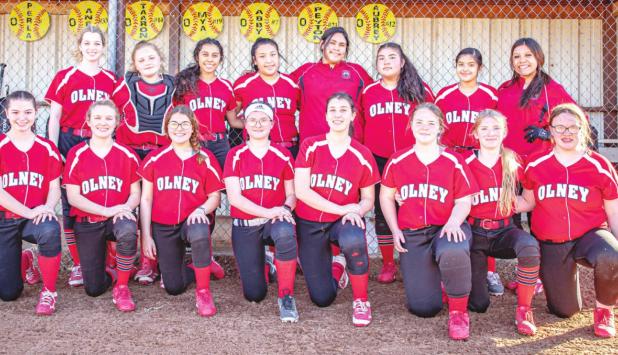 Lady Cub Season Opener
Thu, 03/04/2021 - 12:00am
By:
Will Sadler | Photojournalist
2021 Olney Lady Cubs Varsity team. On opening day the Lady Cubs played against Millsap with the final score of the night being Lady Cubs 3-Millsap 20. Varsity roster: 1 Sarah Green, 3 Jacqueline Hernandez, 4 Brie Hagle, 5 Olivia Enriquez, 7 Abby Guerra, 9 McKenzie Giffin, 12 Aubrey Mahler, 13 Perla Gaspar, 14 Makayla Torres, 20 Taaron Scrogum, 21 Peyton Elliott, 22 Fatima Marquez, 23 Marisol Lozano and 32 Sarah Roach. Not pictured: Head Coach Mollie Pace. Photo by Will Sadler
The JV Lady Cubs season began with them defeating Millsap. They finished the night with a final score of 20-4.
JV Lady Clubs roster: 5 Olivia Enriquez, 9 Angel Frazier, 10 Ellie Hinson, 11 Morgan Casteel, 13 Perla Gaspar, 14 Lara Hilden, 17 Kailey Perkins, 19 Mya Garcia, 20 Brianna Galindo, 22 Nicole Cangini, 25 Kylie Lewis, 30 Whittney Shook, 32 Raylee Clayton, 33 Aney Alvarez and 34 Florivonne Hernandez. Not pictured: Coach Sydney Stafford. Photo by Will Sadler