Odessa Rockenbaugh Forbis
Wed, 12/28/2016 - 5:00pm
Olney1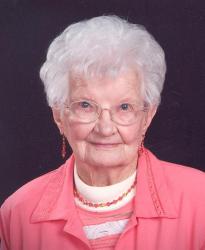 Odessa Rockenbaugh Forbis, age 100, passed away on December 25, 2016 in Corpus Christi, Texas. Funeral services will be held at 2:00 p.m. Thursday, December 29, 2016 at First Baptist Church in Olney with Chad Edgington, pastor, officiating, assisted by Andy Graham, pastor of Southside Baptist Church. Interment will follow in Restland Cemetery under the direction of Lunn Funeral Home of Olney.
Odessa was born October 31, 1916 in Old Glory, Texas to the late Arthur and Mirtie (Clifton) Rockenbaugh. She attended Olney High School and was a lifelong resident of Olney. She married Rayford S. Forbis on February 6, 1937 in Olney. He preceded her in death on August 14, 1987. She helped Rayford in his trucking business, Forbis Tank Trucks, for many years. She was a people person and it was evident by her devotion to her family and friends. She loved the Olney Cub Center and was a faithful member of the Hamilton Hospital Auxiliary for many years. Odessa loved watching the Texas Rangers and the Dallas Cowboys. She was recognized as the Pioneer Woman of the Year by the Olney Chamber of Commerce. Odessa was an avid bowler and she bowled until she was 96 years young. She was named the Senior Bowler of the Year at Graham Steer Bowl. She celebrated her birthday in Las Vegas 22 years with her daughter Martha and family and friends. Odessa joined First Baptist Church on September 11, 1949 and was a faithful member until her health prevented her from attending.
Odessa was preceded in death by her parents, her husband, a daughter, Kay Forbis Marshall on June 16, 2003, and one brother, Claude Rockenbaugh on December 15, 1997.
Odessa is survived by one son, Richard Forbis of Olney; two daughters: Martha Dore and husband David of Port Aransas, Texas and Vanessa Henson and Dorothy Womble of Port Aransas, Texas; eleven grandchildren, twenty-six great-grandchildren, fourteen great-great-grandchildren; and several nieces and nephews.
Family visitation will be Wednesday, December 28, 2016 from 6:00 p.m. to 7:00 p.m. at Lunn Funeral Home in Olney.
Memorials may be made to the Olney Senior Cub Center, P.O. Box 216, Olney, Texas 76374 or to the Hamilton Hospital Foundation, P.O. Box 158, Olney, Texas 76374.
Condolences may be expressed to the family at www.lunnfuneralhome.com.