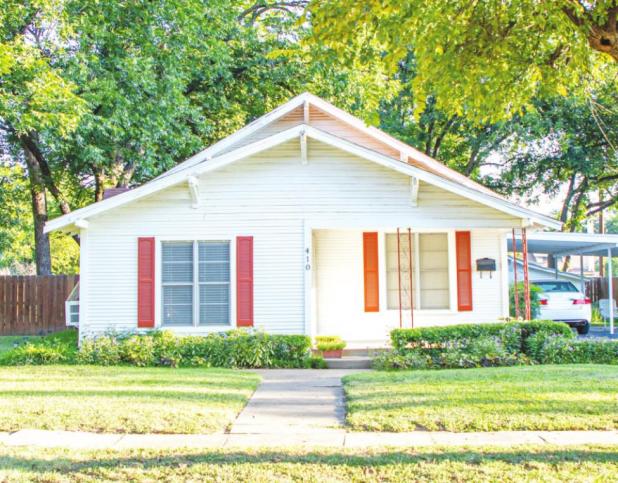 The Wynne-Kieschnick House
Thu, 09/09/2021 - 12:00am
Ben Paschall (1891-1969) in 1919 bought this oversize lot and, with his building connection to Shamburger Lumber, divided this into three lots. The lot for 410 W Hamilton in 1920 passed to Jack Wynne, who in 1923 sold the lot to Ben's mother—Elizabeth Minerva (Collins) (Wynne) (1866-1960) Paschall, who built the house.
In 1955, Burk (1885-1959) and Irene (Norman) (Manross) (1903-1983) Paschall became the owners.
Irene was a graduate of Arlington High School, and she and Burk married in 1931 in Walters, OK. (This was common in this area to marry in OK since they did not have a three-day waiting period after securing a wedding license like Texas) Irene's son, Thomas A. Norton, Jr., died in the service Oct. 30, 1943. She and Burk are buried in Breckenridge, where Irene had spent most of her life. Rev. Andy Channer, the pastor of First United Presbyterian Church of Breckenridge, officiated her funeral service.
In 1962, Burk Paschall's Estate sold the house to Edward Max (1924-1995) and Evelyn Eugenia (Jean) (Holbert) (Chandler) (1918-1990) Kieschnick. Mrs. Evelyn Chandler and Ed Kieschnick married in Wichita Falls Nov. 9, 1951. Ed's parents were Benhard S. Kieschnick (1892-1972) and Bertha Fischer (1888-1981), and Evelyn's parents were Noble Goodman Holbert (1891-1952) and Myrtle (Cloud) Holbert (1890-1977).
Evelyn brought with her a son, Jimmy Rex Chandler, and she worked as a nurse until retirement. Ed and Evelyn became the parents of two daughters.
Evelyn's funeral was at St. Luke Lutheran Church with Rev. Delmar Brach, pastor officiating, and her burial was in the Proffitt Cemetery. Ed's burial was in Restland Cemetery.
In 1995, after Mr. Kieschnick's death, his heirs entered a stipulation of interest with the two Kieschnick daughters and Ed's stepson, Rex Chandler, each own 1/3 of the house. Glenda Kieschnick is the occupant of the house, and she is a retired schoolteacher. She taught fifth grade in Throckmorton Elementary for 32 years and still goes to Throckmorton to substitute. She is a member of the local retired teacher's organization.
If you have any corrections or additional information to add to this article, please contact Clifton Key at 940-564-2979