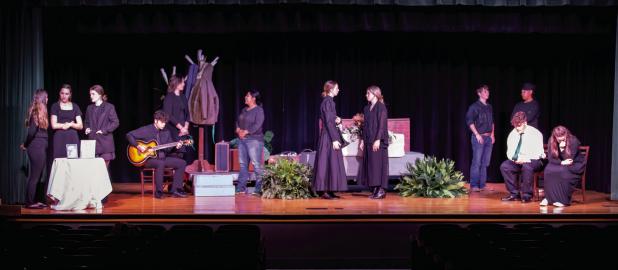 Taste of... Olney
Thu, 03/16/2023 - 12:00am
By:
Gina Keating & Danny Stewart
Grandma Grace's Banana Cake with Fluffy Frosting
This week, I'm sharing a recipe for my Grandma Grace's Banana Cake with Fluffy Frosting, from a recipe that she typed in a letter in 1972 to her only daughter, my Aunt Mary. I unearthed the letter a few years ago at my dad's house - and, reading it, I could hear my grandma's voice again and taste that madefrom- scratch banana cake with the coffee- infused frosting.
At the time she wrote the letter, she was visiting our home in St. Louis for my seventh birthday and First Holy Communion. I had just gotten an orange- and-white kitten named Skipper for the big occasions, and it turns out I was allergic to him. But Skipper and Grandma got on just fine, and we all celebrated with her lovely banana cake.
"Dear Mary," she wrote to my aunt, who was newly married. "This is the first chance I've had to get to these recipes you wanted. Boy, you should see this kitten, climbing on this table to get my attention. He wants to get into this typewriter, I guess he likes the noise I make with it."
I'll let Grandma take it from here. I hope you enjoy her cooking as much as I did. As always, all ingredients are available at Stewart's Food Store.
Ingredients:
Banana Cake: 1 cup salted butter, or oleo 2 cups sugar 4 eggs, beaten 1-2 brown bananas, mashed 1 cup walnuts, chopped 2 cups flour 2 tsp baking powder 1 tsp baking soda (put in milk) 2 tsp vanilla 1 cup sour milk or buttermilk (to sour milk, add 1 tsp white vinegar and let stand for a few minutes) Preparation:
Step 1: Preheat oven to 350 degrees. Grease and flour two 9-inch cake pans or line with wax paper or parchment paper. "I always grease my tins and then line with wax paper because I have no luck of getting the cake out in one piece," Grandma said.
Step 2: Cream butter and eggs in mixer until fluffy. Sift the flour and baking powder together, and add to creamed mixture. Mix well, then add banana and milk and beat well. Add vanilla and nuts.
Step 3: Divide batter evenly into the two cake pans. Bake for 45 minutes. "I just keep watching it so Mary, you'll have to use your own judgment," Grandma said. "Just put a toothpick in a few places in each tin, on account of the banana being it, it has to be thoroughly cooked or it will fail. But that is the way it is with any cake."
Step 4: Let cake layers cool thoroughly in pans before frosting.
Frosting:
4 eggs, beaten 1 cup coffee heated to boiling 1 cup powdered sugar, separated ½-lb unsalted butter Step 1: Place coffee, eggs and 3-4 tbsp powdered sugar in a pan and cook until curdly, stirring continuously over low heat. Let cool completely.
Step 2: Cream butter and ½ cup powdered sugar on medium speed in mixer. Add completely cooled coffee and egg mixture. Beat until blended very well. "If it seems watery, add more butter and powdered sugar," Grandma said. "But it shouldn't be if you measure it right."
Step 3: Remove the cooled cake layers from pans and ice with the icing.
"Buon appetito," as Grandma liked to say.