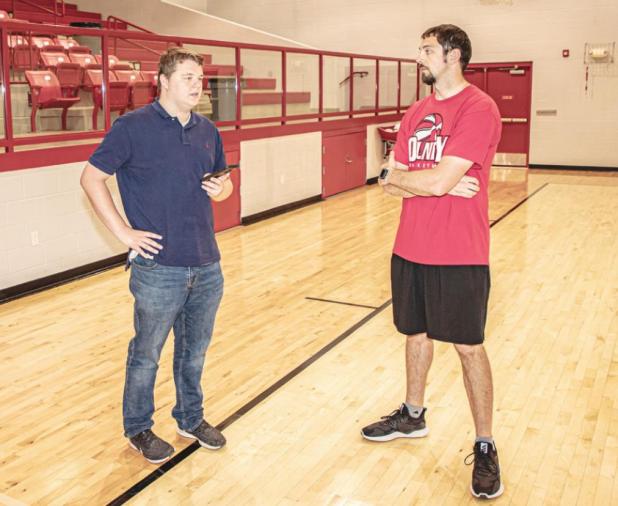 Olney Welcomes New Coach
Thu, 06/25/2020 - 12:00am
By:
Ethan Nickel, Editor | Editor@olneyenterprise.com
Olney welcomes its new head basketball coach Dylan Ballard. Coach Ballard played high school basketball at Ponder High School in Ponder, Texas. "I was very fortunate there. Being able to be apart of three teams that made the state tournament," Ballard said. Coach Ballard went on to win two state championships in basketball at Ponder in 2008 and 2009.
Ballard played college basketball at the University of Ozarks before becoming the girls' basketball coach at Knox City for three seasons. He then went on to become an assistant for the boys' basketball team in Stamford, Texas. Ballard spoke about the potential of the Olney basketball team for the 2020- 2021 season. "I see a lot of good pieces, a lot of potential for a lot of good things and hopefully we get back to the tradition that Olney has," Ballard stated. A handful of basketball players are having a onehour basketball practice with Coach Ballard twice a week in their spare time after strength and conditioning weeks for the football team.
Ballard says that he wants this team to build on what they were able to accomplish last season---only losing one game by more than 10 points with the most games coming down to a few possessions in the final moments of the 4th quarter. Ballard continued to speak of the tradition Olney has in basketball, making the playoffs and advancing far into the UIL tournament on numerous occasions these past few decades. Coach hopes to have basketball camps this summer, potentially in July depending on circumstances as it relates to COVID-19. "I am somebody that believes in the fundamentals of basketball who likes to get out and run. I might be young going into my 7th year and 4th year as a head coach but I am very experiencing with playing the game, playing over 100 games in three years on Varsity in High school and then playing in college," Ballard added.
He spoke of his mentors throughout the years in the game of basketball, discussing how his coaches have brought so much knowledge to his basketball IQ. "Olney is going to get somebody that knows a lot about the game, has the passion for the game, and if I don't know something, I have a plethora of people that I can reach out to and they can help me out," Ballard said. Coach Ballard will also be an assistant coach for the football team, working with the Wide Receivers and Defensive backs, as well as an assistant coach for the baseball team this next spring.