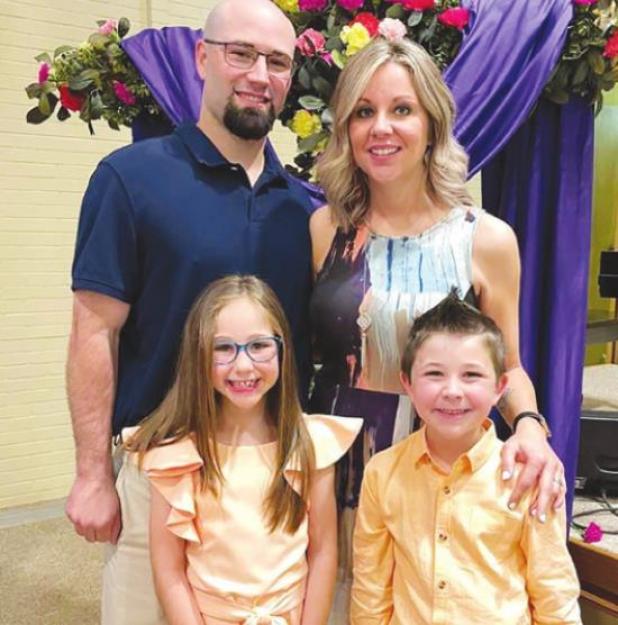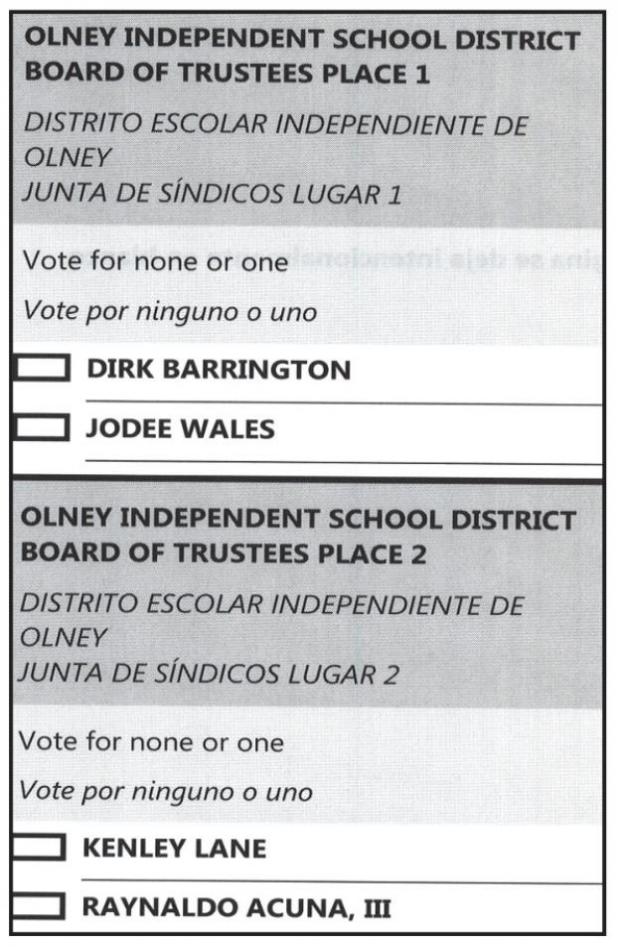 Olney ISD School Board Election
Thu, 04/29/2021 - 12:00am
Election Day will be May 1, with voting being held at the Olney Community Library and Arts Center. Besides voting on City Council members, the election for members of the School Board will also take place. The school board is made up of elected officials that depend on your vote. Below is who is running for school board and what they have to say.
Dirk Barrington (Board of Trustees Place 1): "My wife and I both grew up in a small town and wanted to raise our children in a small town. One of the things we love about Olney is the sense of community. Families come out to support the kids at various school events and attend church on Sundays. [During COVID] Our teachers have had to be on the front lines to educate our children. They have been required to put in extra training and time to facilitate learning through the online platform and in the classroom. If re-elected, I will continue to be a voice for our teachers."
Jodee Wales (Board of Trustees Place 1): "One of the best things that make up the community of Olney are the people who serve the community. It's what makes the community a community." Wales says this is his way to serve the community of Olney. He and his wife, Tori, have two children – Denalee and Braxton, and both attend Olney ISD. Wales is a 3rd generation Olneyite and has lived here his entire life, except while attending college.
Kenley Lane (Board of Trustees Place 2): "I have had the honor of serving on the OISD school board for the past two years. During my term, I have strived to be a voice for all students to the best of my ability. I believe that an encouraging learning environment is key to instilling a positive future path for each student. I am running for re-election for OISD's school board because I want to be a voice for not only our students but for teachers and parents too. I want to continue to be an advocate for all."
"I am an active participant in this community and I want to see Olney continue to grow and improve. I want students in this community to feel and know they are valued and to be able to thrive as human beings. No matter what age, our students are important contributors to this community. We need to be invested in our schools and our students. To sum it up, I want to make sure every student is on a path to graduate and educationally equipped to lead a successful life."
Raynaldo Acuna III (Board of Trustees Place 2): "I'm running for school board because I want to serve my community by doing what is in the best interest of the students. The Hispanic population of Olney is growing. As a Hispanic on the board, I can serve as a liaison between the Hispanic parents and the board, relaying concerns and keeping the lines of communication open."
"Estoy corriendo a la junta escolar porque quiero servir a mi comunidad haciendo lo que es de interés para los estudiantes. La población hispana de Olney está creciendo. Como hispano en la junta, puedo servir de enlace entre los padres hispanos y la junta, transmitiendo preocupaciones y manteniendo abiertas las líneas de comunicación."
Too often school board elections go unnoticed, and whether or not you have school-age children, the impact of these elections is felt throughout our community. We, as citizens of Olney, have a civic duty to get out and vote in the May 1 election.