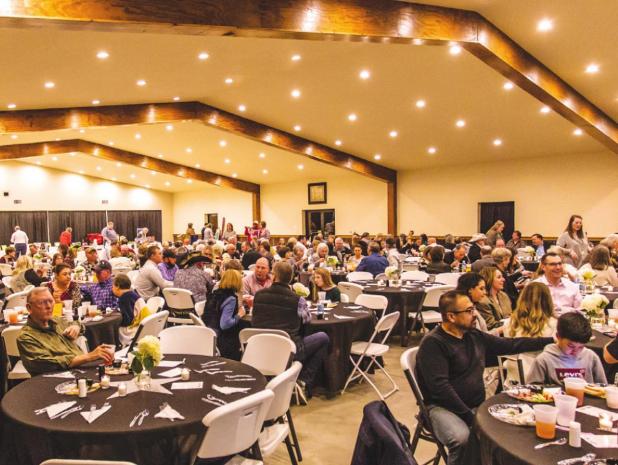 Olney Chamber of Commerce Will Host the Annual Banquet at Olney Civic Center, Jan. 20
Thu, 01/13/2022 - 12:00am
By:
Ronni Walker, Mmc | Publisher
The long-awaited Olney Chamber of Commerce annual banquet has returned. The Chamber is hosting the event at the Olney Civic Center Jan. 20 at 6 p.m. This event is open only to the Olney Chamber members and associates, and registration is required. Visit www.OlneyTexas.com/Events to register for this event before the Jan. 17 deadline.
Individual tickets are priced at $35. In addition, attendees may reserve tables for eight at $280. The proceeds from the ticket sales will be used for future banquets.
Olney Chamber Director Deidre Choat-Brown explained the importance of the annual banquet that most members look forward to attending.
"The annual banquet is an opportunity to gather with officials and business owners to honor their accomplishments for the year. The Chamber's purpose is to be an anchor to the business community. We want everyone to know that we are here for them," said Choat-Brown.
The event will include an auction, dinner and entertainment. The silent auction will be part of the event and help with costs for the coming year. The auction will consist of jewelry, accessories, décor, art, a family trip to the zoo, among other items. The Orchard located in Wichita Falls will cater the meal. Guests will choose between pineapple chicken or pork tenderloin served with roasted vegetables, salad and dessert. In addition, the Piano Man will provide entertainment.
Choat-Brown said she is grateful for the assistance with planning by the subcommittee, which includes Marti Hamilton, Kristi Simmons, and Chamber board members Tammy Montgomery, Anna Rogers and Lyndsey Miller.
Remember to register first at OlneyTexas.com/Events. Then, click on events and complete the short form. Although you cannot pay via the website, you can pay in person or by phone with cash, check or a credit card. You may also pay via Venmo, olneytxchamber@gmail.com, or mail payments to 108 E. Main Street, Olney, TX 76374.
For additional questions, please call the Chamber at 940-564-5445 before the Jan. 17 deadline.