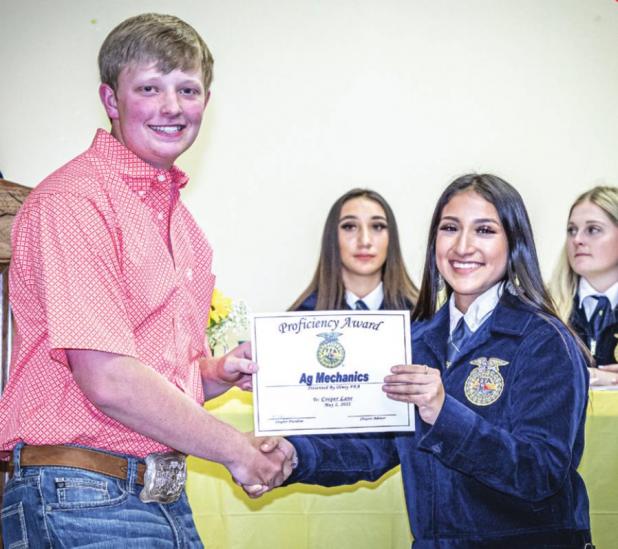 OHS FFA celebrates with end of year banquet
Wed, 05/11/2022 - 12:00am
By:
Will Sadler | Photojournalist
On May 2, Olney High School's [OHS] Future Farmers of America [FFA] Chapter celebrated the end of a busy and successful year of events and activities. The celebration was held at the Olney Civic Center, with an awards ceremony and meal. A Mexican-style dinner was prepared by a volunteer and mom (Susan Del Villar) of the OHS FFA Chapter President, Natalie Del Villar.
President of the OHS FFA Chapter, Natalie Del Villar, banged the gavel to get the last meeting underway. Vice president of Olney FFA Kami Bednarz called the roll, and all officers were noted as present. After each officer explained the role of each office, dinner was served, followed by the awards and recognition ceremony.
The following are highlights of the awards presented at the banquet. Treasurer Neal explained what the first group of award recipients was recognized for as Reporter Lewis handed out the awards and shook each member's hand.
Neal said, "Those FFA members that have received their Greenhand degree may apply for the Chapter Degree. Members must enroll in an agricultural science class, have completed at least two semesters in agricultural science at or above the ninth-grade level, have in operation an approved SAE program, demonstrate leadership skills, and be actively involved in the activities of the local FFA chapter. This degree of active membership is awarded at the chapter level. The Chapter FFA Degree is given to an FFA chapter's top members." The top members were: Angel Alvarado, Gatlin Guy, Ellie Hinson, Brady Lisle and Peyton Valdez.
The following is a list of members and awards presented: Senior Chapter conducting- 4th in District: Mario Alvizo, Charlee Bailey, Jose Castillo, Isaac Delgado Rios, Donahvin Mullins, Samantha Sanborn, Eva Eckberg and Krystal Hernandez.
Greenhand Chapter Conducting: Wacey Canada, Jordan Jacoba, John Lee, Nathan Lewis, Camron Mc- Comack, Donald Pint and Jonathan Delira.
Greenhand Quiz- 6th in District: Charlee Bailey, Isaac Delgado, Jordan Jacoba and Camron McComack. Senior Quiz- 4th in District: Jonathan Delira, Maggie Olvera and Natalie Del Villar.
Senior Skills- 5th in District, 2nd in District, 10th in area: Angel Alvarado, Gatlin Guy, Ellie Hinson and Peyton Valdez. Sr Creed Speaking: Julia Lewis. Job Interview- 7th in District: Kami Bednarz. Public Relations 5th in District: Natalie Del Villar, Taaron Scrogum, Aubrey Mahler and Chloe Neal. Radio Broadcasting 9th in District: Brady Lisle, Aubrey Mahler and Chloe Neal.
Dairy Cattle- 8th in District: Natalie Del Villar, 12th individual, Eva Ekberg and Josie Gentry. Vet Science- 4th in District: Madeline Clayton, Sydnee Dixon- 5th in District, Peyton Valdez and Perla Gaspar. Wildlife- 3rd in District: Julia Lewis, Tate Gibson, Brady Lisle and Maddie Clayton. Floriculture- 2nd in District: Tyana Kinney 7th individual in District, Nataley Kelly 6th in District, Cindy Delgado 3rd in District, Milk Quality- 2nd in District, Aubrey Mahler-5th high individual in District, Taaron Scrogum- 6th high individual in District, Entomology- 3rd in District, 6th in area, Kami Bednarz-3rd high individual at District and 9th high individual at area, Sarah Stroud- 8th in District Maggie Olvera. Farm Business Management- 1st in District, 4th in area-STATE Qualifier: Angel Alvarado, 1st in district 9th in area Gatlin Guy, 3rd in District Ellie Hinson, 1st in district 9th in area Chloe Neal, 5th in district Land 2nd in district 8th in area Haydon Carter, 7th in District Axel Flores, 4th in District Jordan Jacoba, 8th in District Jose Olvera, 6th in district Donahvin Mullins.
Julia Lewis- Julia was 1st at District in extemporaneous speaking. She will compete at the Area contest May 16- good luck! Richard Walp was 3rd at District out of multiple other schools.
One Career Development Event team advanced to state this year. Only five teams from each area advanced to the state contest in farm business management. Farm Business Management team members are Angel Alvarado, Gatlin Guy, Ellie Hinson and Chloe Neal. The team placed in the top 4 percent out of all chapters in the entire state of Texas. This is a huge accomplishment! Congratulations on a great CDE season. 3 Students received welding certifications this year. That was Cooper Lane, Oswaldo Hernandez and Stephanie Parades.
Each year the Friends of FFA group works diligently to raise money to give away scholarships to seniors who have gone above and beyond in the agricultural program. Requirements for this scholarship include at least three years of participation in an LDE and CDE. They also must have an SAE project. This year we have the privilege of giving away six $500 scholarships on behalf of the Friends of FFA group; recipients were: Kami Bednarz, Maddie Clayton, Natalie Del Villar, Julia Lewis, Chloe Neal and Sarah Stroud. With a final bang of the gavel for the last time by outgoing OHS FFA President Natalie Del Villar, the banquet and last official meeting for the FFA was adjourned. Good luck on your next journey, outgoing FFA Seniors!