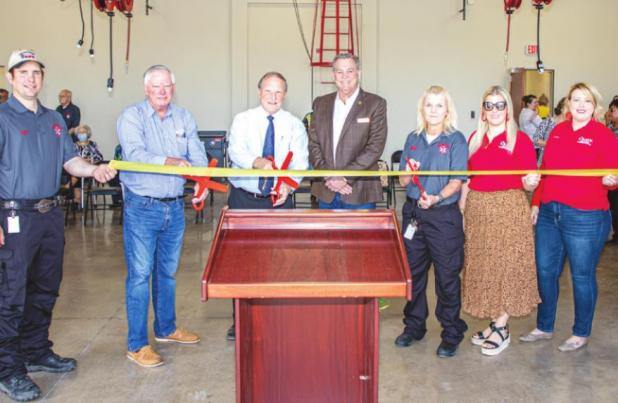 OHH Opens New EMS Building
Thu, 10/07/2021 - 12:00am
By:
Ronni Walker, Mmc Publisher
Olney Hamilton Hospital (OHH) unveiled the new EMS building Saturday, Oct. 2. The OHH board, staff, auxiliary and supporters gathered at 204 S. Avenue M in Olney.
OHH CEO Mike Huff opened the ceremony with a welcome and reminder, stating that OHH is the oldest operating hospital in the state of Texas. Kathrine Atchley, who attended with her daughter Georgia, confirmed the opening date was 1908. Atchley's father, Dr. George Hamilton, was the hospital's founder who gave the hospital to the City when he died in 1933.
After a brief historical overview, Huff welcomed Rep. David Spiller, who recognized the hard work to get the EMS facility completed and its importance.
"I understand how important it is for rural health care and to have a hospital with emergency services. We learned as a nation how important first responders are on the job," Spiller said before presenting a flag that was flown over the State Capitol.
Following Spiller's presentation and the invocation, EMS Director Tom Wright gave an emotional overview of what it took to get where they are now and stated his appreciation for the support.
Olney Chamber initiated the ribbon-cutting, the EMS staff led tours of the facility, touting their appreciation for the sleeping facilities with private bathrooms and the large kitchen and seating areas.
Huff said regarding the EMS structure, "This is one of the finest facilities in our state that will be an excellent recruitment tool. I think people will want to see this facility, and when they see it, they will like it. We are very proud. This is good for our hospital and our community."
OHH Board President Dale Lovett said the EMS project has been a labor of love.
"Out of the tragedy of having COVID that nearly shut down our hospital, we were able to utilize some of the support to grow our hospital. [This facility] provides an opportunity for the [EMS workers] to be safe, clean, and to properly handle negative situations in a positive manner," Lovett said. Shifting the focus from the building, Lovett said the diverse personnel is behind the hospital's success. He described them as the heartbeat of the hospital.