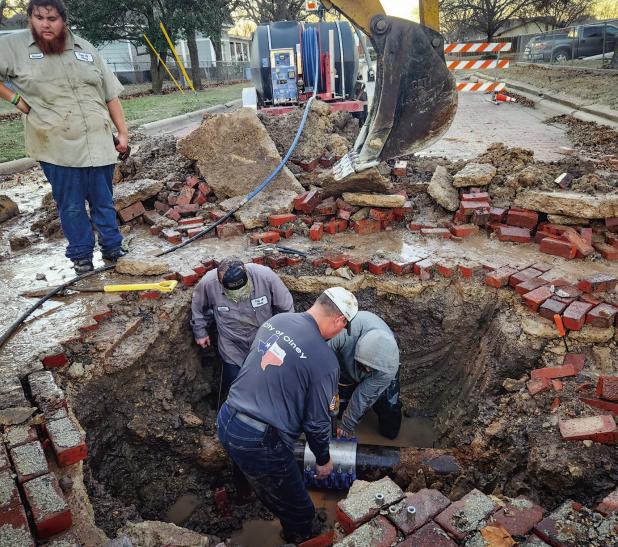 City eyes federal dollars for infrastructure projects
Thu, 01/12/2023 - 12:00am
The City of Olney is researching new federal funding sources that could jump-start long-delayed infrastructure projects, such as replacing the city's aging underground water pipes and fixing its pothole-riddled roads, Mayor Rue Rogers said. The new year will bring public officials in rural America opportunities for funding infrastructure projects "unlike anything they have experienced in the past," thanks to billions in federal dollars set aside for small towns and counties, according to Austin-based government procurement specialist Mary Scott Nabers. In her Dec. 30 SPI Insights newsletter, Ms. Nabers described "billions in funding for all types of infrastructure projects in 2023" through federal grant and loan programs for improving rural utilities, transportation and roadways, and broadband connectivity.
The City of Olney issued $13.5 million in revenue bonds last April to head off the failure of its 102-year-old water treatment plant. The city had hoped to use $2 million of that sum to dig up and replace its 52 miles of clay sewer pipes and cast iron and AC water pipes but higher-than-expected interest rates on the bonds put that project out of reach. The Olney Public Works Department grappled with seven water pipe leaks, and eight sewer blockages in November, a typical monthly number, City Administrator Arpegea Pagsuberon said.
The city's two water towers and its three water storage tanks also need maintenance, at a cost of about $250,000 apiece, Mrs. Pagsuberon said. The city also needs a third water storage tank on the south side of town, with a price tag of $750,000, she said. Public works employees repair about 50 potholes each month on an estimated 70 miles of city streets because Olney's annual budget of $5.7 million will not accommodate resurfacing them – a project estimated to cost $5 per square yard, she said.
Mayor Rogers said the City Council will liaise with state and congressional representatives to get more information and help in applying for suitable programs. "This is an exciting opportunity for rural communities," he said. "As city leaders, we need to and will research these opportunities to receive federal dollars to improve our community. As a city, we have several needs that extend beyond our annual budgets, but we have been very forward-thinking in addressing some of the city's biggest needs. If we can receive federal funding, to any extent, it would make a significant impact in our ability to address the needs in a much shorter timeline."
The programs, run mainly by the U.S. Department of Agriculture and the U.S. Department of Transportation, are all designated expressly for rural communities and designed to reverse decades of neglect, Ms. Nabers said. The USDA will distribute about $300 million through the Rural Energy for America Program for projects in 2023 related to clean and reliable drinking water systems, sanitary sewage disposal, solid waste disposal plants, and stormwater drainage, she said.
The USDA's ReConnect Program provides loans and grants to rural communities to resolve inadequate access to broadband internet. In 2023, the USDA is expected to have $1 billion to allocate to rural high-speed internet projects, she said.
USDOT has $8 billion to allocate for smaller projects in rural areas, including $4.6 billion to deliver new public transportation services, and another $10.8 billion allocation for bus and bus facilities. State and regional transportation planning organizations and local governments recently received $300 million in funding from USDOT for projects that improve and expand rural surface transportation infrastructure, she said.
The Texas Legislature, which began its 88th session on Jan. 10, also has said it will prioritize rural Texas when it comes to distributing the $27 billion in surplus sales tax funds. Texas Sen. Drew Springer said his priorities include shepherding into law a rural broadband bill he sponsored last session and directing state funding to rural law enforcement, including mental health access for county jail inmates. He also wants state funds to go toward economic development for rural Texas and favors pursuing federal dollars for rural communities.
"We always welcome our tax dollars back from [Washington] DC since we are a donor state: we send more up than we get back," Sen. Springer said. "When DC requires matching dollars of 5 to 50 percent, the State looks at partnership with the locals to draw those dollars down."
Small cities and counties may have to join forces to access the funds, Ms. Nabers said. "Collaborative partnerships will be in high demand," she said.
Young County Commissioner Stacey Rogers, whose Precinct 3 includes Olney and Newcastle, said he supported the idea of multi-county partnerships to access state and federal dollars earmarked for rural communities. "Young County will welcome any outside monies for road and bridge infrastructure," Mr. Rogers said.
"The State surplus should be going towards mental health facilities and juvenile placement facilities. This would give the local taxpayers a break from financing the State's responsibilities."