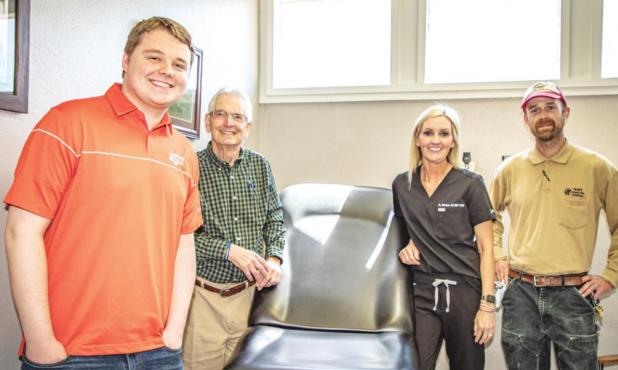 Archer Family Clinic receives exam table donation
Thu, 04/08/2021 - 12:00am
On Thursday, March 25, Olney Hamilton Hospital Foundation President Lewis Farmer was present for the installation of the new exam tables at the Archer Family Clinic.
Farmer said, "The OHH Foundation appreciates the donation from Claudia and Layton Humphrey that was designated for the benefit of the Archer Family Clinic."
The Humphreys are Archer City residents, and Claudia (McKinney Humphrey) is the granddaughter of Dr. H.C. McKinney, a longtime Olney doctor who came to Olney in 1912. Dr. McKinney, Dr. Joe Daniels and Dr. George B. Hamilton helped build Olney as the "place to go for exceptional medical care."
The Archer Family Clinic is an extension of Olney Family Clinic. There are two board-certified family practice physicians--Dr. Aaron Purdy and Christie Caceres Munoz--on staff. There is one nurse practitioner, Randi Rowe, RN, BSN, MSN.
Randi concluded, "We are grateful for the Humphrey's generosity to the clinic and to Archer City. The exam tables will greatly benefit our patients."