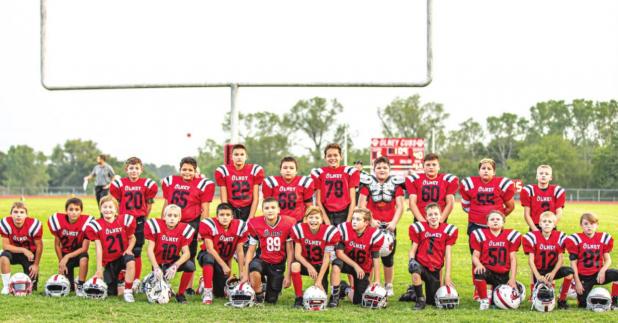 Top of Texas Midget Football Cubs vs. Seymour 42-0
Thu, 10/01/2020 - 12:00am
By:
Will Sadler, Photojournalist
Midget Cub Football Roster: #1 Tristan Bishop, #3 Ryder Lisle, #10 Jed Willoughby, #12 Jaxxon Laurent, #13 Jordan Ballentine, #20 Shane Grard, #21 David McCarson, #22 Tucker Cortinez, #24 Daven Garza, #30 AJ Solano, #33 Gunner Guy, #46 Logan Phillips, #50 Chloe Ward, #55 Jacob Gallardo, #60 Dylon Chappell, #65 Braden Rodriguez, #68 Jacobi Esquivel, #73 Stormie Snow, #78 Kanton Rodgers, #81 Collin Hope, #84 Richard Elizondo, #88 Alex Jose Vasquez, #89 Daniel Veloz
Sept. 19, the Top of Texas Midget Cubs hosted a season opener against Seymour. The Cubs came alive early and were on fire the entire game. The Cubs were victorious against Seymour. The Top of Texas Midget Cheer Squad was bursting with Cub spirit that kept the Cubs hyped the entire game. The Cheer Squad had the crowd cheering on our Cubs loudly and proudly. Well done Cubs and Cheer Squad, Olney is proud of you! Fight on Cubs!!!