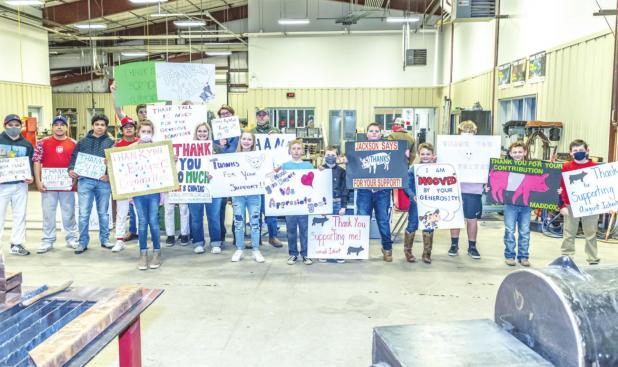 Olney FFA Buyers Dinner
Thu, 02/11/2021 - 12:00am
By:
Will Sadler | Photojournalist
On Jan. 25, the Olney FFA and Olney 4H held their annual Young County Junior Livestock Show Buyers Dinner.
This year was a bit different though; just like many other events this past year, Covid-19 protocols changed how most events functioned, which caused the Olney FFA to host a drive-thru dinner. As shown in the photo, the kids had no problem making this event fun for everyone. Olney FFA showed their appreciation to the buyers this yby smiling and holding up signs as buyers came through the line to receive their dinner.
"The buyer's dinner is a way for us (Olney FFA) to show our appreciation to the people who donated money to help buy kids animals to show. This is a good way for the kids to meet those who donated and vice versa," said Haylee Haralson – Olney ISD AG Science teacher.
Haralson would also like to express their appreciation to the community for supporting the students.