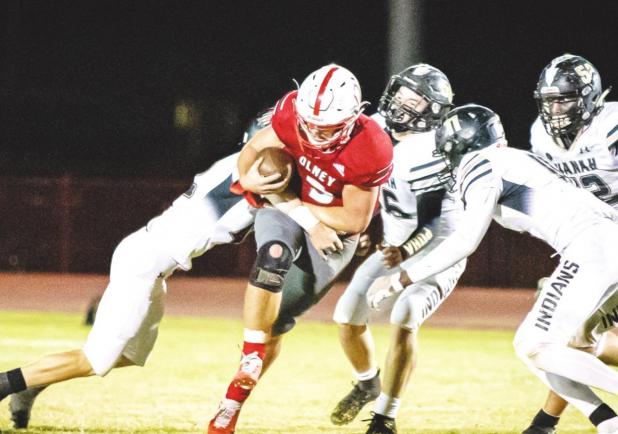 Final District Play Cubs vs Quanah
Thu, 11/11/2021 - 12:00am
By:
Will Sadler | Photojournalist
On Nov. 5, the Mighty Olney Cubs took the field for the last game of the regular season. The Cubs fought hard against the Nacona Indians to decide which team would end the season in third place and end the season in fourth place.
The Cubs had a few key mistakes in the first quarter, leaving them trailing 14-0 against the Indians. However, the Cubs regrouped and fought back in true Olney fashion during the second quarter, rallying 14 points to end the first half with a tie score, 14-14.
The Cubs came out of the locker room to begin second-half play fire up and determined not to make the mistakes of the first half. The Cubs' defense led the charge against the Indians with an interception from #50 Donny Welsh, who ran it in for 6, followed by a successful conversion by #22 Gio Rockmore. After both the Cubs and Indians defense had solid play against the offense, the Cubs settled for a 22-yard field goal by #21 Cole Turner. The Indians fired back with a run-in for 6 and a failed 2-point conversion ending the third quarter Cubs leading the Indians 25-20.
The fourth quarter showed the Cub defense completely shutting down the Indian defense, and the Cubs put up another 13 points ending the final district game with a Cubs victory with a score of 38-20. The Cubs secured third place in the district and will travel to Sweetwater on Nov. 11 to play Ralls for the first round of playoffs. The kickoff will be at 7 p.m. Tickets will be sold at the gate. Mustang Stadium is located at 1205 Ragland, Sweetwater, Texas 79556.