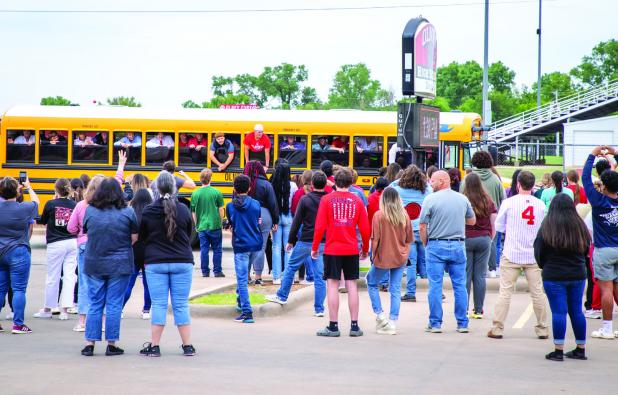 Cubs vs. Muenster Hornets Bi-District Playoff end of season loss
Thu, 05/11/2023 - 12:00am
By:
Will Sadler | Photojournalist
The OHS Olney Cubs baseball team has had a very successful season thanks to some hard-working Cubs and a new baseball head coach, Caleb King. King has led the Cubs to the playoffs for the first time in seven years.
The Cubs faced a tough district rival, the Muenster Hornets. The Hornets were 14-7-1 overall and 4-1 in district. The Hornets claimed the win over the Cubs in the Cubs' season-ending Bi-District Championship game. Cubs-1, Hornets-11. The Cubs were just outmatched by the Hornets' pitcher who had a very strong and accurate pitch.
The Cubs were 8-6 overall and 6-4 in district and looked to be favored going into the playoffs. The Cubs had a six-game win streak during district play with strong hitters, a competent catcher, and a couple of strong pitchers, with #21 Jordan Jacoba and #3 Liher Del Rio Martinez. The only run scored by the Cubs came by #9 Camron McComack, center fielder, by way of #21 Jordan Jacoba, pitcher for the Cubs. #11 Braulio Flores had one hit for the game. Next season looks bright with the Cubs only losing four seniors, giving the Cubs a roster full of seasoned players. Fight on, Cubs!