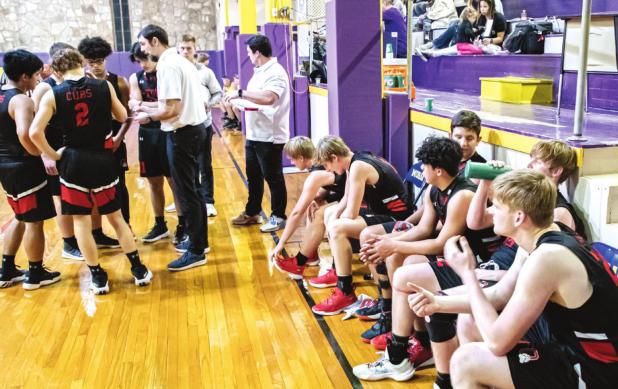 Cubs Tame the Bulldogs
Thu, 01/13/2022 - 12:00am
By:
Will Sadler | Photojournalist
On Jan. 4, the Olney Cubs Varsity Basketball squad traveled to Moran to battle the Bulldogs. The Cubs fought hard and secured the win with Cubs-71 Bulldogs-14. The following are highlights from the match-up.
#0 Guy scored 2 points on a jumper, #2 Knight 23 points which included three from the outside, #3 Coleman scored 5 with one for three from the outside, #4 Scrogum was on fire shooting from the outside with four buckets from the outside and four jumpers for a total of 20 points, #10 Buffington sank two buckets for 4 points, #12 Turner playing with controlled aggression drove to the basket through Bulldog defenders for 6 points, #22 Rockmore sank four buckets for 8 points, #24 Kulhanek who played aggressively under the basket and had Bulldog defenders wary by the end of the fourth period and scoring 2-points and two free throws. Not showing up on the book from the game is teamwork and dedication of other Cub players, whose gameplay is just as important as the Cubs who score all the points; without their defensive play, blocking and passing, the team would not be able to secure a win.
Fight on Cubs!