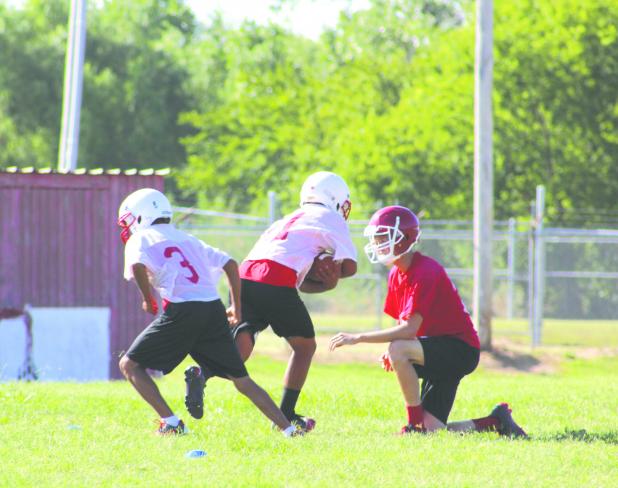 Cubs start football two-a-days
Wed, 08/03/2016 - 11:02am
The Olney Cubs football team started two-a-day practices on Monday, Aug. 1, bright and early at 7:30 a.m. Two-a-days marks the unofficial start to the 2016 season and is a cherished tradition in Texas High School football.
Cubs head coach Mark Young said that it was good to be back and that the first day of practice got off to a good start.
"It is always good to get back into a routine and see all the kids after last year and the summer. It was a good day," he said. "Some of the coaches were talking about how fast it went. Anytime practice goes fast that means you had a good practice. We've got a lot of good kids out and some coachable kids and some kids that are going to get after it and give it all they got. I'm excited about this year."
Young and the Cubs staff have to replace 10 seniors this season. Young is excited about this year's senior class and the underclassmen that will step up.
"It's kind of hard to replace 10 seniors. We are going to be young, but we have some good juniors that will be seniors this year that are going to be good leaders. I think we will be OK," he said.
With a younger team fresh mentalities and optimism can propel a team to growth. The Cubs are also working with some stability this season. This year marks the third year that the team will have ran the same offense and defense. 
Installing some new plays and working on the fundamentals will be the main focus of two-a-days.
"With this being the third year for us running the offense and the defense we are trying to revisit what we have done the last couple of years and add a few plays here and there," Young said. "The more you learn your offense and defense the more you can do with it. Get the fundamentals down and then start doing the X's and O's."
The team is focused at the beginning of camp, and building upon last season the stakes will be higher in 2016.
"As far as what I told the guys this year, preseason doesn't mean anything. We are working to get better for district. Our goal this year is to make the playoffs," Young said. "With there being five teams if you beat one team in district and everything falls you can be in the playoffs. That's our goal is to get better as the season goes on and to be ready when district starts up, to not only make the playoffs, but why not win a district championship?"
Winning a district championship and competing at the highest level of 2A football will require the work and sweat of the team in August's' dog days of summer. 
The team will be in a new district for 2016. District 5 will consist of: Olney, Alvord, Chico, Seymour and Windthorst. The new district will provide the Cubs some opportunities to grow and get rid of old foes.
"Anytime you lose Stamford, who were two year in a row state champions, and Holli who are three kids away from being 3A, and Anson who went three rounds deep, it makes things easier for everybody," Young said. "Windthorst and Seymour are still good and Chico and Alvord are always a 4-6 or 5-5 team, so you never know."
Practice started strong on Monday and the excitement of fall is building for the Cubs.
"Every kid showed up today on time and ready to go and they are excite,d and we are excited and we are looking forward to what the future holds," Young said.
Olney will play two scrimmages before kicking off the 2016 season at home against Jacksboro on Friday, Aug. 26. 
The first scrimmage will be Friday, Aug. 12 against Electra and it starts at 6 p.m. The second scrimmage is scheduled for Thursday, Aug. 18 at City View and also starts at 6 p.m.
Olney starts pre-district play against Jacksboro and then plays Petrolia, Nocona, Archer City, Haskell and Stamford before opening district play on Oct. 7, against Windthorst.