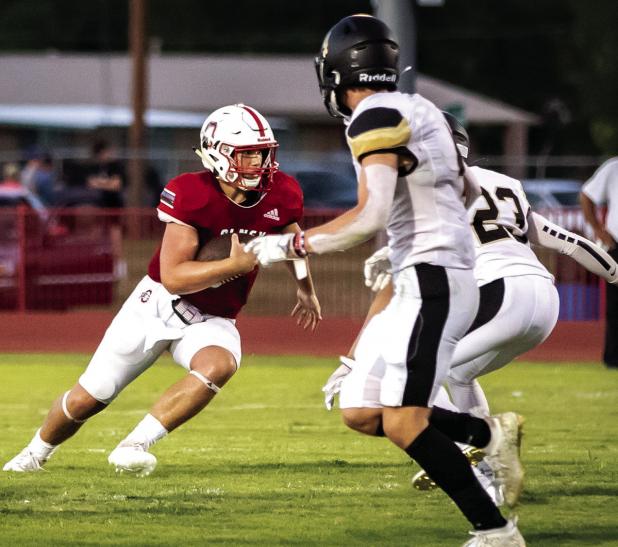 Cubs Maul the Indians
Thu, 09/22/2022 - 12:00am
By:
Will Sadler | Photojournalist
Our Olney Cubs traveled to Haskell on Sept. 9 to continue their rain of pain on opponents. The Cubs are 3-0 and continue to grow more physical with each game. The Cubs have now earned the respect of the district and of a majority of high school sports writers with their smothering defensive play style and punishing Veer ground game. During first-quarter play against the Indians, it was a battle of defenses with the Cubs breaking out with a Gatlin Guy 40-yard run for 6 and a successful extra point kicked by Jacob Hernandez. The first quarter ended with the Cubs on top 7-0.
With a taste of success, the Cubs opened up during the second quarter with a 2-yard run for 6 by Gatlin Guy and a failed 2-point conversion. The Indians fired back with a 23-yard pass for 6 and an extra point to put the Indians on the board. The Cubs offense pushed down the field and Geo Rockmore scored 6 with a 2-yard run and a good field goal by Jacob Hernandez. The second quarter ended with the Cubs on top 20-7.
The third quarter had the defensive units back at a battle of wills. Geo Rockmore had enough and exploded down the field with a 27-yard run good for 6 and a successful point after by Jacob Hernandez. The third quarter ended with the Cubs still leading the way, 27-7.
The fourth quarter came and they battled their way through a tough Indian defense ending with a 1-yard push-through good for 6 by Geo Rockmore and a good point after by Jacob Hernandez, ending the game with another dominant performance on both sides of the ball for the Cubs. The final score was 34-7. The offensive players of the game were Gatlin Guy and the Cub offensive line. Without the grit and strength of the Cub offense, there could be no success. Gatlin Guy rushed for 152-yards on 22 carries, made two touchdowns, a breakaway 40-yard rush, and two completed receptions for a total of 29 yards. The defensive player of the game was Cyler Sosa with two tackles, seven assists, one interception, and one fumble recovery. Cyler Sosa rushed for 36 yards on six carries. Other standouts include the defensive line, Luis Castillo with two tackles, one assist, one sack, one tackle for a loss, and one interception. Camron McComack with one tackle, eight assists and 41 yards rushing on five carries, two receptions for 29 yards. Fight on Cubs!!!