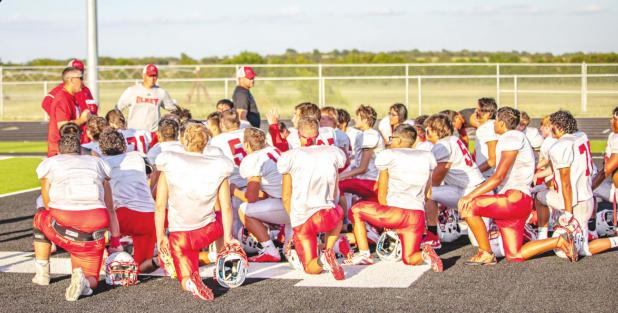 Cubs Football Scrimmages Coach Guy comments on upcoming season
Thu, 08/26/2021 - 12:00am
By:
Will Sadler Photojournalist
High school football is back and so are the Olney Cubs. The Cubs recently scrimmaged against the Tioga Bulldogs and the Haskell Indians. The Cubs played a mixed game of Varsity and JV teams. Both teams were fired up and cheered each other on. No score was taken during the game but the Cubs scored several touchdowns and made a number of strong defensive plays. The offense looked solid and was opening up the holes for the running back and quarterback to squeeze through.
Olney ISD Athletic Director and Head Coach of the Olney Cub Football Program, Jody Guy, commented on how the Cubs were looking for this season. "We've got kids that are fired up, ready to go. We've got kids that were working hard all summer long and so we're excited about this season for sure." Coach Guy went on to say he is excited about the offensive line and what they will bring. Before the season began, Coach Guy was unsure about how the offensive line would do after losing so many key players. After the Tioga scrimmage, Coach Guy said, "You know, we had things that we had problems with. We have a fast pace tempo offense and trying to get lined up really quick and try to simulate that, but it's hard to simulate that in practice and so we had mistakes. Our coaches do a great job of getting everything fixed up and ready to go to next week's tasks."
Cubs Offensive Coach, Greg Fortner, commented during the Cubs inner squad scrimmage, "This year, we're good, we're getting better but we're still a very young team." Coach Fortner said they try to not individualize on players that stand out, but says the team as a whole is looking good this season.
Cubs Defensive Coordinator, Jason Powers, commented during the inner squad scrimmage, "We are miles ahead of where we were last year. We are looking more physical and looking fast because the kids know what to expect. We want all 11 guys to get to the ball every time, and that was one of the drills that we did in practice throughout the offseason and throughout fall camp. The kids are doing a good job of getting to the ball."
The coaches asked for the support from the community this year and would like Olney to come out to every home game, and if possible, away games. The Cubs take on the Chico Dragons in Chico on August 27.