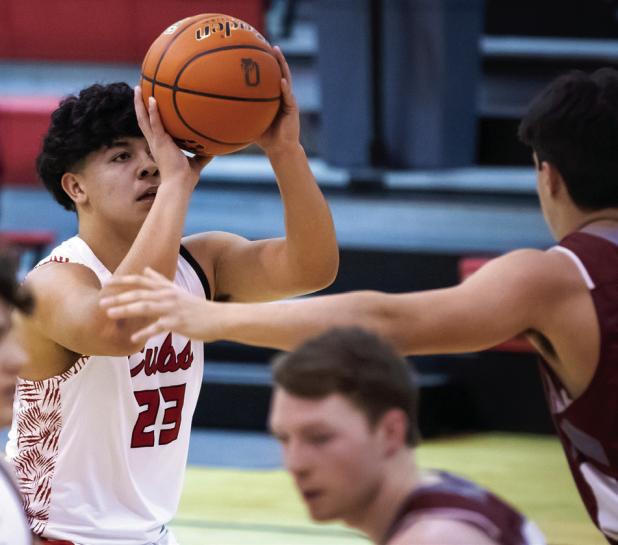 Cubs Fall to the Panthers in District Battle
Thu, 02/02/2023 - 12:00am
By:
Will Sadler Photojournalist
The Olney Cubs continue fighting in district matchups, keeping the playoffs hopeful. The Cubs recently hosted their rival Seymour Panthers for a district matchup. The Cubs fought with passion and determination but fell to the Panthers 28-47. The game was a very close battle through to the third period where the Panthers pulled away for the win.
Before the game, Cub Varsity Head Coach Dylan Ballard talked about the improvements he has seen in the Cubs' play. "We're 13 and seven," he said. "I feel like we're getting better every game, trying to make small adjustments or learn a lot. I am pleased with the effort and the direction that it's headed. District is going to be tough, there's no slouch games."
Mr. Ballard said in a Facebook post about the Cubs game against Seymour: "Sometimes the scoreboard doesn't always dictate if you 'won' or 'lost' a game. If your team executed, played hard, fought, battled, and just flat played their hearts out, despite the scoreboard not being in your favor, you won and that's how I feel about my guys tonight [Cub/ Panther game]," the post said. "They did everything they could and kept the game close, 6 points halfway through the 3rd Qtr, before losing by 19. Super proud of the Olney Cubs!"
Standouts for the game included #2 Brady Lisle scoring 5 free throws, #0 Gatlin Guy sinking one bucket, #5 Keenan Daugherty scoring 16 points, including 12 from the outside. #20 Luis Castillo hit one basket and played a fierce defensive game and #23 Noah Enriquez sank one basket and one free throw. Enriquez shined on defense and kept the Panthers scrambling. Be sure to show up and support the Cubs at home on Feb. 3, when the Cubs will host the Petrolia Pirates for Senior Night. Fight on Cubs!!!