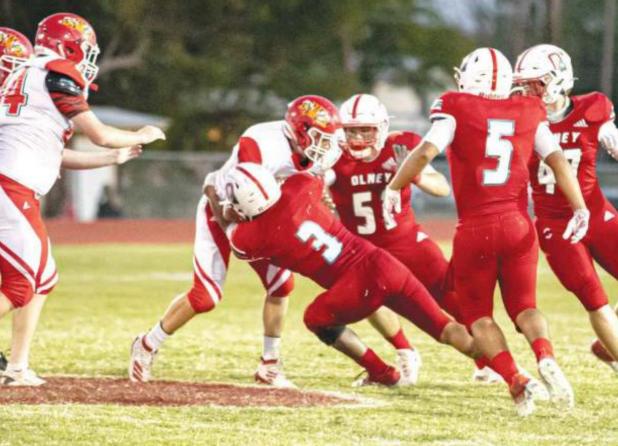 Cubs Defeat Electra; First Time in 21 Years
Thu, 10/29/2020 - 12:00am
The Olney Cubs defeated Electra for the first time in 21 years. But not only did they defeat them, they did it in grand style by a whopping score of 58-7. This was also the largest margin of victory for the Cubs in a district game in many decades.
The "fear the veer" offensive attack has now become an offense that will be feared by teams and defenses for years to come, led by the three headed monster of quarterback Gatlin Guy and running backs Brian Hernandez and James Coleman. Guy got things started in the first quarter with a touchdown run, followed by a Brian Hernandez touchdown in the second quarter. The Cubs scored 22 points in quarter number two to give themselves a 30-0 lead going into halftime. Guy finished with 189 rushing yards on the evening to go along with two touchdowns, while Hernandez added 151 rushing yards and three touchdowns. Sophomore James Coleman also added a touchdown run in the third quarter.
You cannot mention the success the Cubs have had this season without mentioning the stellar defense that has been played, led by AB Marquez. Marquez had 26 total tackles against Electra, which is an absurd amount for one game. Marquez has dominated all season, with 75 total tackles so far this season, his name will certainly be mentioned in defensive MVP for the District. Other defensive performances include Senior Carter Hinson and Morgen Wilk. Hinson has been a catalyst all year on defense, locking down any receivers that come his way. The offensive line is as much to thank as any group on the field as well against Electra, with key blocks that led to score after score last Friday night. Offensive line play is usually overlooked, as the runners of the football usually get much of the credit, but you cannot mention the consistent success of this offense without appreciating what this veteran offensive line has been able to accomplish thus far this season. The Cubs are now in position to make the playoffs for the first time in many years as they continue their momentum against Quanah on Friday, Oct. 30.