Etta P. "Perky" Ellis Dowdle
Wed, 07/27/2016 - 12:11pm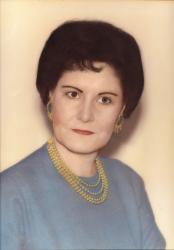 Etta P. "Perky" Ellis Dowdle, age 91, died Friday, July 22, 2016 at Hamilton Hospital in Olney, Texas. Funeral services will be held at 2:00 p.m. Saturday, July 23, 2016, in the chapel of Lunn Funeral Home in Olney with Steve Collard, pastor of Immanuel Baptist Church, officiating. Interment will follow in Restland Cemetery. Arrangements are under the direction of Lunn Funeral Home of Olney.
"Perky" was born March 24, 1925 in Young County, Texas to the late Roy and Zona Easter (Townsend) Pardue. She graduated from Eliasville High School in 1942 and moved to Olney in 1946 from Graham. She married Amon Ralph Ellis on September 26, 1946 in Breckenridge, Texas. He preceded her in death on January 25, 1975. After his death, she operated the Amon Ellis Oil Account for several years with the help of partners, the Williams brothers. "Perky" was an avid bowler and a member of Immanuel Baptist Church. She married Douglas Ray Dowdle on April 14, 1977 in Waurika, Oklahoma. He preceded her in death on July 3, 1999.
"Perky" was preceded in death by her parents, her two husbands, four brothers, one sister, and a special nephew, Norman R. Emmons.
Survivors include numerous nieces and nephews, including special nephew Allen Emmons and wife Mabel of Olney, special niece-in-law Lynn Emmons of Arlington, and sister-in-law Connie Bennett of Milton, Florida.
The family suggests memorials be made to Olney Senior Cub Center, P.O. Box 216, Olney, Texas, 76374, or to Immanuel Baptist Church, P.O. Box 913, Olney, Texas, 76374.
Condolences may be expressed to the family at www.lunnfuneralhome.com.