Diana Garcia Ortiz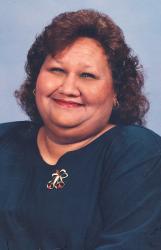 Diana Garcia Ortiz, age 60, died Friday, September 23, 2016 in Wichita Falls. Rosary will be at 2:00 p.m. Wednesday, September 28, 2016, in the Chapel of Lunn Funeral Home. Arrangements are under the direction of Lunn Funeral Home of Olney.
Diana was born November 30, 1955 in Olney, Texas to the late Fidencio Garcia and Francisca (Garza) Garcia. She married Jose Francisco (Pancho) Ortiz on May 5, 1988 in Olney. She was a homemaker and a member of St. Theresa Catholic Church. Diana was preceded in death by her parents; a sister, Gloria Garcia Villa; and two brothers, Lionel Garcia and Fidencio Garcia, Jr.
Diana is survived by her husband, Jose Fracisco (Pancho) Ortiz of Olney; her son, Adrian Daniel Cervantez of Wichita Falls; four sisters: Delia Garcia of Lubbock, Graciela Ruiz of Benavides, Texas, Velma Garcia of Manor, Texas, Lydia Garcia of Austin, Texas; four grandsons: Alejandro D. Cervantez, Angel D. Cervantez, Adam D. Cervantez, Ayden D. Cervantez; three nieces: Susanna Escobedo of Olney, Evangelina Serrato and family of Dallas, Frances Aleman Cardoza and family of Lubbock; and one nephew, Benito Escobedo and family of Carrollton.
Condolences may be expressed to the family at www.lunnfuneralhome.com.