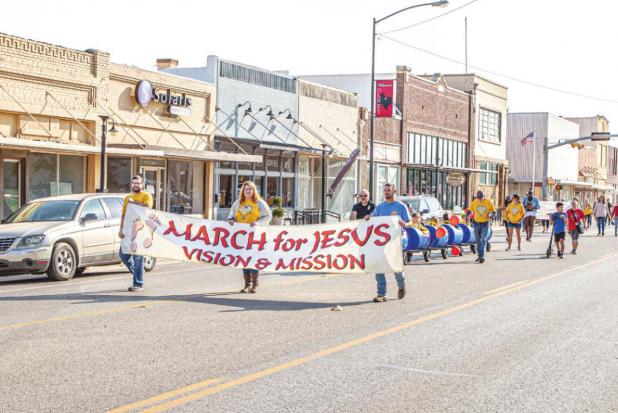 They Were Like Soldiers Marching
Thu, 10/15/2020 - 12:00am
The 22nd Annual March for Jesus celebration was held Saturday, Oct. 3, in Olney, Texas. After the parade, participants and attendees gathered at Tommy Perkins Memorial Park for the praise and worship service.
The event founder and organizer, Verma Fobbs, shared a scripture that Pastor Chad Edgington said would be appropriate for the event. She quoted Zechariah 10:5, "They will defeat their enemy—it will be like soldiers marching through mud in the streets. They will fight, and since the Lord is with them, they will defeat even the enemy soldiers riding horses." Fobbs explained the significance of the scripture, stating, "We must take a stand and march for Jesus in this day and time where we see so much craziness all over the world. Why wouldn't we march for Jesus? We march for everything else."
The Hope Fellowship Band performed several songs to set the tone for the event. The band comprises Alyssa (lead singer), Kristy McQueen (bass guitar), Chris Taylor (drums), Anne McQueen (keyboard) and Paul McQueen (lead guitar).
After the band performed, Mikey Pesqueda, the Pastor of First Baptist Church in Archer City, delivered a sermon that began with a question: Are you willing to put God first and love Jesus above anything else? He said following Jesus has less to do with getting into Heaven and more about knowing the true God and having a relationship with Him. He concluded with the most valuable treasure is to follow Jesus, stating, "Christ is the ultimate treasure." Pastor Pesqueda attended the event with his wife Ariann, and he has been pastoring FBC in Archer since July 2019.
Later, guests were invited to enjoy free lunch and drinks served by the March for Jesus volunteers. This year, the volunteers and organizers were Verma Fobbs, Shirley Jeter, David King, Anne McQueen, Paul McQueen, James Wiley, Pastor Chad Edgington and Arpegea Pagsuberon. The event ended with prize give-a-ways that were donated by various individuals and organizations.
The March for Jesus committee extends a huge thank-you to the community for helping to make this year's event a success. If you would like to serve, donate, or volunteer for the event next year, please reach out to Verma Fobbs through First Baptist Church in Olney.