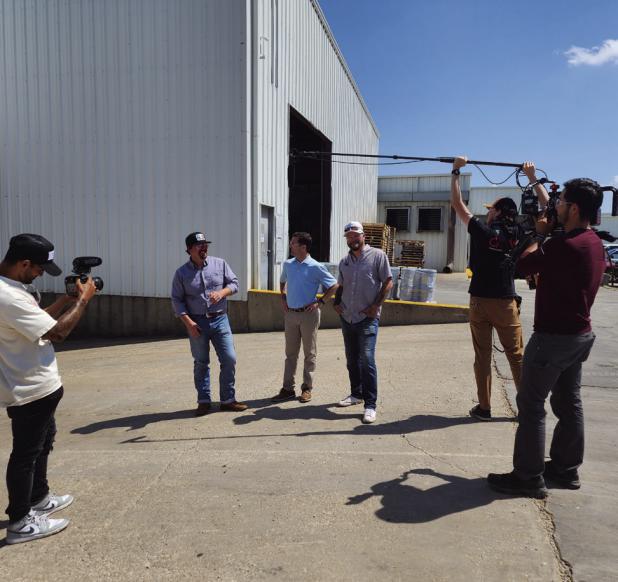 Rural Route Revival begins shooting in Olney
Thu, 05/18/2023 - 12:00am
The producers of the TV show "Rural Route Revival" brought a camera crew to Olney last week to shoot scenes throughout the City for a trailer for the documentary-style series about renewing small towns in Texas. Brothers Lance and Corey Groves from Possum Kingdom are producing the "Fixer Upper"-style show and supervising the construction of about 10 new houses in Olney, the first of which is under construction on Oak Street.
The crew, from San Antonio and Austin, shot in several locations in Olney, including at Tower Extrusions with Mayor Rue Rogers and Councilmember Brad Simmons, and in Graham and Newcastle, where they filmed former County Judge John Bullock.
"Lance and Corey wanted to come to see Tower and to highlight Tower as they are filming things for their trailer," Mayor Rogers said. "And as they discuss the community and work to highlight the community within their show they wanted to highlight some of the businesses."
The crew then hit Hometown Coffee and Tea, where they chatted with Mayor Pro Tem Tom Parker. "Tom is going to discuss the housing issue because that's the point of the show," Lance Groves said. "We are going to different towns to discuss different problems and when you look at Olney housing is definitely the primary issue out here."
They also shot at Young County Courthouse, recreating the aftermath of a chance meeting with County Judge Win Graham that produced the idea for shooting the first episodes in Olney. At that meeting, Judge Graham mentioned that the City of Olney was having trouble finding legitimate buyers for dozens of foreclosed lots and needed housing for workers who commuted daily from surrounding communities.
Mr. Groves said the project has been well-received by the community, to the point that he and his brother are already getting inquiries about the homes, which they plan to sell at cost to working families. "The city has been awesome. The community has been wonderful," he said. "We set up an email address and put it on a banner outside that production trailer [on State Highway 79] and … we've gotten some pretty heartwrenching and inspiring stories …you read those things and it just solidifies why we're here."
Olney singer-songwriter Race Ricketts also appears in the trailer, which features his song "940," an anthem to the North Texas area code.
The Groves tapped connections with the University of Texas at Austin football team as talent for the series, with former Longhorn Kevin Vaccaro, now a videographer in Austin, as the director of photography. The brothers announced last month that Arizona Cardinals quarterback Daniel "Colt" McCoy, a former Longhorn quarterback, would provide the voiceover but said this week that Mr. McCoy had decided to play another season with the Cardinals and would not be available for the production He said he and his brother "adore Colt and want nothing more than him to get as much from his time in the league as possible. However, for our project to stay true to its original identity we need all equity holders in the project to reside in Texas. We will find a way to link back up with Colt down the line," he said.
Mr. Groves said he approached both men, in part, because of their small-town backgrounds. Mr. McCoy grew up in Tuscola, Texas and Mr. Vaccaro was raised in Brownwood.
"They reached out to me asking me if I wanted to shoot for them and he explained the project and I just thought it was the most impactful thing I've heard in a while," Mr. Vaccaro said. "I'm from a small town and that's why it's special to me. I think this solves a big problem in Olney, Texas. With all our resources and their passion, I know we can make a difference. We've got some big plans" Mr. Groves said the trailer will be completed within the next two or three weeks.