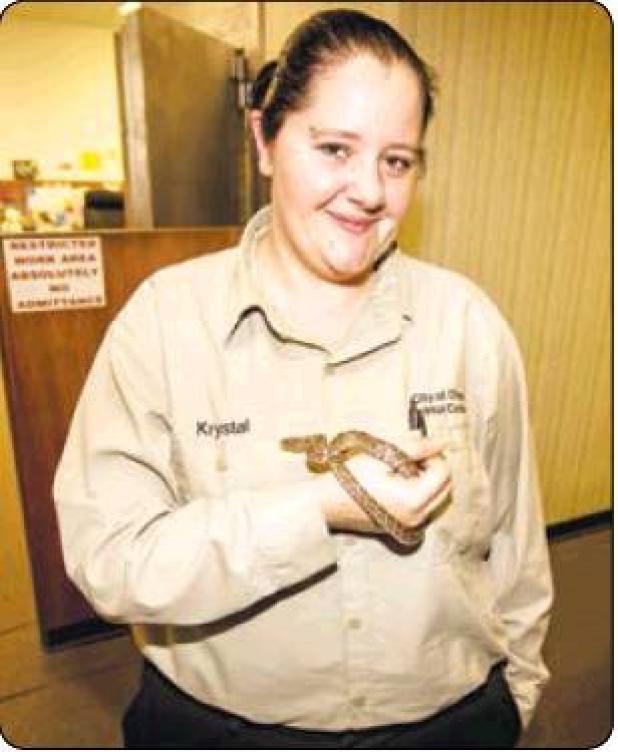 Olney Welcomes Krystal Barnhardt
Thu, 03/21/2019 - 12:00am
By:
Will Sadler | Advertising@olneyenterprise.com Photograph Image/jpg Krystal Barnhardt Is Pictured Holding A Bull Snake. Photo By Will Sadler
Krystal Destinie Barnhardt first began as Olney's animal control officer in October 2018. After living in Olney for 11 years, she decided it was long enough to put down roots and call Olney home.
Barnhardt was interested in becoming the animal control officer because of her love of animals. "I loved helping animals ever since I was a kid," Barnhardt stated. "Helping animals is a passion for me." She said the informal training she has had with veterinarians has helped her with the way she cares for her animals.
Barnhardt plans to make her role as animal control officer a long-term role. She has shared a few ideas to improve the animal control process in Olney. Currently, when she picks up an animal, it is taken to the Humane Society of Young County. Olney's facilities for taking care of animals are not up to the task. Barnhardt said she hopes to remedy this situation in the future.
When a skunk, possum or critter, in general, is picked up, the animal is released away from the city out to countryside. In one stinky situation, Barnhardt said that a skunk had gotten into the hospital. The employees of the hospital had it trapped in a closet. Krystal came to the rescue with her animal carrier. She later released the skunk back into the wild.
Barnhardt said one of her most significant resources is the people of Olney. "It can take up to three days for me to earn the trust of a dog so I can safely capture the animal and either return it to its home or deliver the animal to the Humane Society in Graham where they do not euthanize the animals, Barnhardt said. While the Humane Society had some pets up to a year before finding homes for them, finding homes is not an easy task as there is currently no Facebook page to post missing pets; Barnhardt said they are working on creating a Facebook page for missing pets that should help find homes for strays and reunite owners with their pets.
Barnhardt said she wanted to thank the people of Olney for being so supportive of her. After experiencing a dog bite, Barnhardt is currently on light duty and appreciates everyone for understanding. She requests that pet owners keep up with their pet's registration and identification tags so she can reunite pets with their owners.
When you see Barnhardt, take a moment to talk to her about her plans for Olney. To report an animal problem, please call the Police Department & Animal Control. (940) 564-5550.