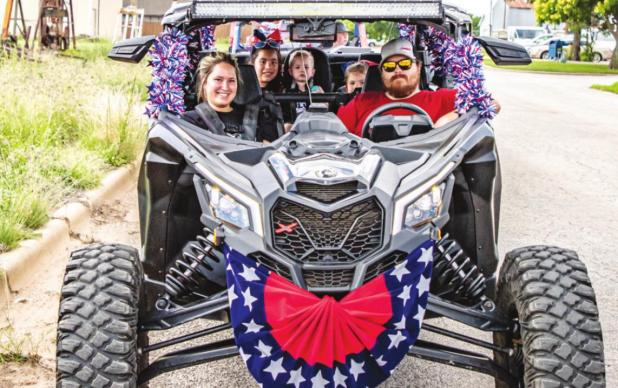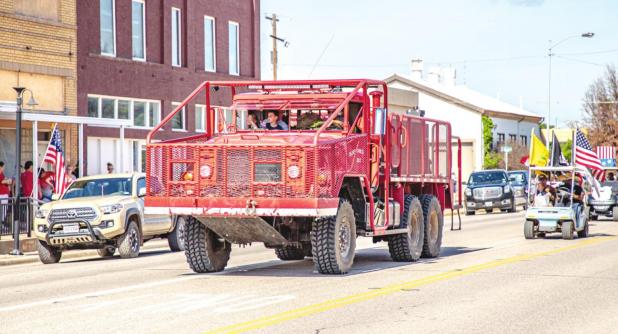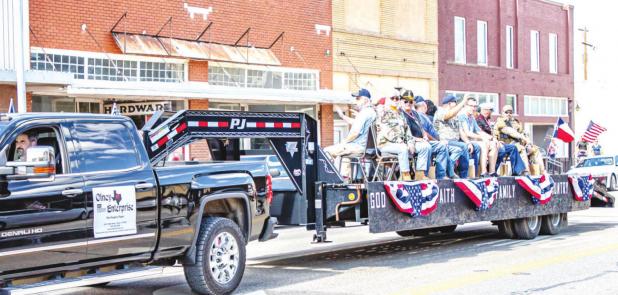 Olney in America Celebration Young County Veterans Honored
By:
Will Sadler, Photojournalist
The Olney Chamber of Commerce, with the help of many people, organizations and businesses, hosted a spectacular Independence Day celebration and parade entitled "Olney in America."
The event was sponsored by local business Cub Nutrition, located at 105 E. Main Street in Olney. Cub Nutrition serves a variety of healthy meal replacement shakes and energy teas. The Olney in America event is best described as a 4th of July celebration from yesteryear. There was a colorful and patriotic parade with businesses, organizations and community members filling the ranks with decorated floats, off-road vehicles, bicycles and many other unique vehicles.
The parade marched down Main Street, ending at Tommy Perkins Park. Next up was free watermelon and a few contests to determine bragging rights for parade participants. After some good old-fashioned fun in the park, the festivities moved to the Olney Country Club.
The Olney Recreation Association hosted Olney in America this year at the Olney Country Club. Estimates were still being tallied of how many attended this year's celebration, but guestimates show the attendees numbered in the thousands over the course of the event.
The Olney Chamber worked hard to fill the event location with many food and retail vendors, as well as a special section called the Cub Fun Zone. The Cub Fun Zone included a bounce house, face painting and many other fun activities.
The main attraction of the evening, besides the explosive finale, were the bands that performed at the Olney in America event. Jon Hope and the Jack Wagons commanded the headliner spot with good reason. The band is a very popular local country band that has been quickly moving up the charts. Other performers were Casey Keeter on acoustic guitar partnered with Kevin Bullock on the fiddle. The duo kept those in attendance entertained as the celebrations moved on into the evening. Another popular performance was given by a band made up of local residents called "The Mix Tapes," which included Mondo Molina, Chris Widner, Chad Edgington and Summer Branum. The group played many popular hits, including some very well performed 80's hits!
The many vendors were overrun by hungry attendees who made quick work of the vendors who served up delicious treats. Most vendors sold out fairly quickly and attendees moved on to the many tents and chairs set up facing the stage, in anticipation of the evening's entertainment. As Jon Hope and the Jack Wagons came toward the end of their set and the sun sank in the west, an explosion of bright lights and bangs ushered in the fireworks extravaganza. Olney in America was undeniably a complete success and is sure to draw an even larger crowd in years to come.