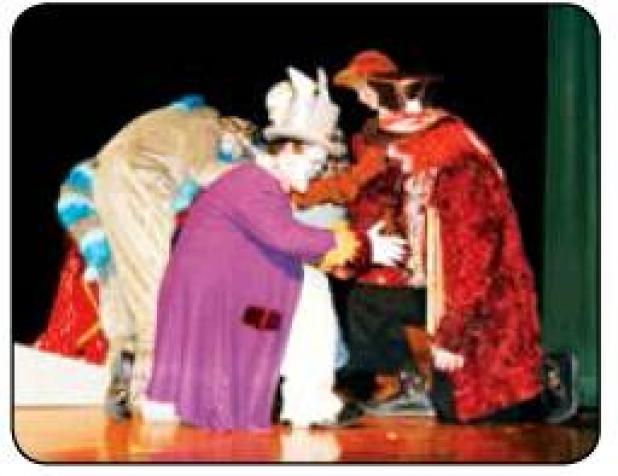 Newcastle Advances in One Act Play
A sizable crowd of community members gathered at the Newcastle High School Auditorium Thursday, March 7, to offer support to the students' encore performance of the University Interscholastic League (UIL) One Act Play.
The director Kem Forbus along with the co-director Meghan Clark selected Jason Pizzarello's adaptation of "Alice in Wonderland" written by Lewis Carroll. The show opens with the White Rabbit coming out of the rabbit hole, late for his appointment with the Queen. Alice is then seen falling down the rabbit hole. The madness escalates with erratic tea parties, colorful characters and a terrifying queen.
The students' performance was immaculate and full of energy from start to finish. Forbus said she is proud of the hard work all students put in to ensure a successful performance. "The students are required to audition. Typically, around the beginning of December, we have an open call for high school students. The students will state their preference for a role, but if they don't receive their desired role, I will ask them if they want to take another role," Forbus explained.  
With such an excellent performance, some may find it hard to believe that some of the cast have never set foot on a stage. Forbus said, "This year, we have a lot of new faces, and this was their first time onstage. We had quite a few students returning to the stage as well."
Newcastle High School's entire cast and crew will advance to Bi-district and will compete within Conference A against five other 1A schools.  
According to the UIL website, the One-Act Play competition comprises Texas schools similar in size that presents a play between 18 and 40 minutes long. The six possible levels of competition include Zone, District, Bi-District, Area, Region and State. Each level of competition is subject to adjudication by a single judge or a panel of three judges. In addition to awarding individual awards, the judge selects three productions to advance to the next level of competition up to the Regional level, but only two productions will advance to the state level to compete against six other schools.
The cast members  listed in the order of appearance: Kelsey Shields as the White Rabbit, Bryanna Nickel as Alice, Amber Graves as the Second Alice, Jaren Turner as Cheshire Cat, Preston Bradshaw as Mad Hatter, AJ Ford as March Hare, Katie Payne as Dormouse and Tweedle Dee, Alana Holland as Humpty Dumpty and jury, KC Morgan as Rose and Queen, Destiney Gossett as Daisy One, Gardner seven and Knave, Caitlyn Turman as Daisy Two, Caterpillar and Cook, Alexis Holland as Tweedle Dum and Gardener Five, Chase Ford as the King, and Breanna Sherbert as the Executioner and Soldier.
The crew members are Preslee McBride (Lights), Jacob McMillan (Sound), Amy Martinez (Stage Manager), JT Spurlin (Stage Crew), Daniel Martinez (Stage Crew), JD Brice (Alternate), David Gossett (Alternate), Victoria Richards (Alternate).  AudioMicro.com provided royalty-free music. Performance rights provided by Playscripts.com.
Forbus majored in English and minored in Theatre. She teaches English at Newcastle High and Ranger College. She enjoys introducing students to the arts via the One Act Play. She said, "Theatre is a great place for students to explore the world in a safe environment and to learn about who they are and what other people are like--It allows them to have an opportunity to interact with people from different walks of life. Theatre helps students open their eyes to the world beyond their world."