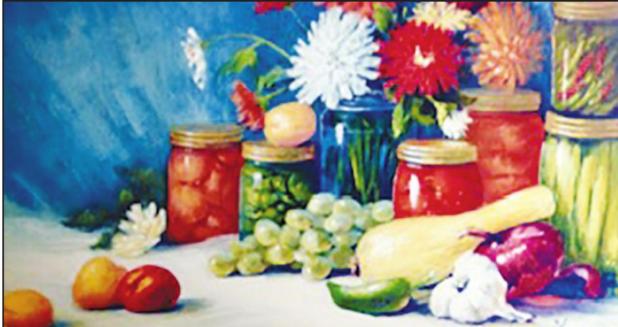 Larimore's passion for art still strong after 41 years
Thu, 07/30/2020 - 12:00am
Barbara Larimore, local artist, started doing art as a hobby in 1979. It very quickly became a passion.
Through the years she studied with several nationally known artists, and has been a member of numerous professional art organizations. She gained "Signature" status in Women Artists of the West, D'Art of Dallas and The Pastel Society of Dallas.
Her work has been accepted into numerous national and area shows, and earned awards along the way. Her artwork has been represented by several fine art galleries thru the years, and she has been featured in the Wichita Falls Times Record News. Although she is not as active in art these days, her work is still represented by Prellop Fine Art Gallery in Salado. She also has a gallery of her paintings at Rathgeber Hospitality House, Wichita Falls, in which proceeds from sales benefit Rathgeber.
When Mrs. Larimore was preparing to retire from her day job at the Special Education office of Big 4 Co-op, she went into the custom framing business (to help support her "art habit"). She did custom framing for 30 years. Her motto is "Framing Makes The Difference!"
Mrs. Larimore says, "I have worked in a variety of mediums including oils, pastels, watercolor, and mixed media. I also consider photography as one of my mediums, although I have never pursued it professionally."
"I have been privileged to travel with numerous art groups to many places across the U.S. and several countries abroad. They were all great experiences, and gave me an insurmountable library of photos to use in my pursuit of art."
Mrs. Larimore has had two shows at Olney Library & Art Center, which included a selection of paintings and photography. During David Penn's time she also wrote a series of articles about art for the Olney Enterprise.
She says, "I fell in love with photography when I was in fourth grade and my family let me take the Brownie Box Camera to school one day. I have owned a number of fine cameras, but today I find that my I Phone camera serves my quest for candid shots and landscapes very well.
An annual, photography road trip to Llano and Fredericksburg area has been a favorite experience through the years. Whether it is a great year for the bluebonnets or not, the beauty of the Hill Country area never disappoints.
Mrs. Larimore and husband, Neil, are lifelong residents of Olney, and recently celebrated their 65th wedding anniversary.