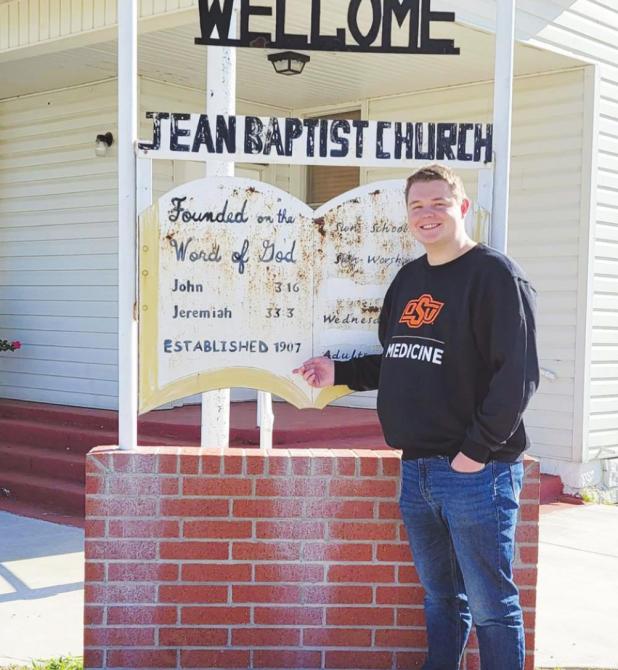 Jean Discovery
Wed, 01/06/2021 - 11:00pm
While traveling on Hwy 114 from Olney to Graham, we naturally turn right onto Hwy 1769. One day, I decided to take a left turn to visit the town of Jean, Texas. There wasn't much to see. The Baptist and the Methodist church stand a few feet apart with a few houses in between. The old school has been converted to a community center. Three buildings that were once the pride of Jean stand dilapidated with tin ceiling tiles hovering over what appeared to be shiplap. On the buildings' exterior were the dates of establishment ranging from 1921 – 1924.
As I stood in the rubbish, I wondered about the town's birth and the people who resided there, so I set out on foot to find someone who could help. I met Alex Contreras, who introduced me to his grandmother and did his best to find answers to my questions. Although his grandmother had resided in Jean for 41 years, she was reluctant to share any information because she said she was not fully aware of Jean's history. We conversed with a couple of other residents who did not know much about the town's history. I had exhausted all of my options, so I resorted to online archives to get more information.
The Texas State Historical Association was the initial reference I found. Still, I questioned the information's accuracy when I discovered that the author transposed the letters in the founder's name. According to the founder's obituary—which we cross-referenced with other sources—Jean, Texas was founded in 1875 by Benoni Smith "B.S." Lamar (1819- 1904). Benoni's parents were Marine Tyler Lamar (1794- 1888) and Rebecca Jane Rice Lamar (1797-1876). He married Martha Ann Wheatley Lamar (1822-1911) on Nov. 21, 1839, in Kentucky, and they had 11 children: Benoni Stewart 2/20/1840-4/30/1840) Lamar, Rebecca Ann Lamar Loft (1841-1917), William P. Lamar (1843-1846), Benjamin Franklin Lamar (1846-1913), Robert Emery Lamar (1848-1918), Mary Angeline "Ann" Lamar Dolman (1850-1915), James Thomas "Tom" Lamar (1853-1938), George Leonard Lamar (1855-1932), John Smith Lamar (1857-1921), William Tyler Lamar (1859-1935) and Susan F. Lamar (1863-1888).
Three months after the couple married, they had their first child, who died when he was two months old. The child was buried at Lamar Cemetery in Hancock County. After their youngest child, Susan was born, the family relocated to Young County. Lamar purchased land approximately 10 miles from Graham, and that area is now known as Jean, which his eldest son, James, named after his sweetheart.
B.S. Lamar earned a living as a farmer and stockman. His wages allowed him opportunities to build a home, the town's first store adjourned with his house, and the Lamar School, which is now the community center.
The town of Jean is located in Young County, Texas, on State Highway 114 and FM 1769. In 1903, when the Gulf, Texas and Western Railroad came through from Seymour, Baylor County, Texas heading for Jacksboro, Jack County, Texas, the town moved one mile to its present location. The three buildings in the picture are part of the four brick buildings built in the 1920s comprised of the Jean State Bank, a drug store, a mercantile house, and a Masonic lodge.
Jean currently has a population of 110 residents according to the 2000 census. Cemetery records show the following families in the Jean community: Cantwell, Duckworth, Gaskin, Lamar, Thompson, Ragle, Pratt, Weem, Simms.
Sources: Find_A_Grave.com; Texas State Historical Association