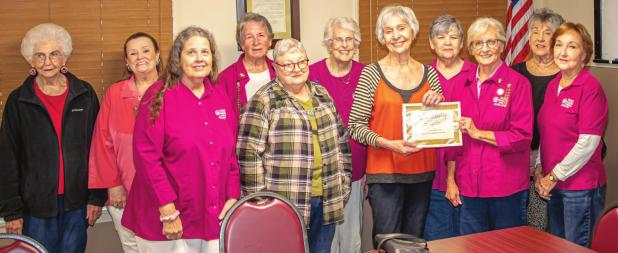 Hamilton Hospital Auxiliary Presents Honorary Membership Award
Thu, 09/24/2020 - 12:00am
The Olney Hamilton Hospital Auxiliary met Wed. Sept. 8 in the Hamilton Hospital Education Building. President Phyllis Whitsitt called the meeting to order at 2:00 p.m. The meeting began with the prayer for hospital auxiliaries. In attendance: Pat Kelly, Juanisha Heidelburg, Susanne Nier, Margie Snyder, Ellen Hardin, Phyllis Whitsitt, Carla Perry, Judi Winslow, Bobby Wright, Ann Lundy, Gail and Walter Spears.
Carla Perry was presented with an Honorary Membership Award by President Whitsitt. Following the presentation, the minutes of the August meeting were read by Secretary Ann Lundy. Followed by the reading of the Treasurer Report by Mrs. Lundy. Both reports were approved as read. Susanne Nier reported 1,275 volunteer hours worked by the Auxiliary. The hours reflected are those accumulated in the first three months of 2020.
The goal of the Auxiliary is to raise money for needed improvements in the hospital. The group has donated $10,000 in the first seven months of 2020 to assist in upgrades to the Dietary Department. Another current project involves selling honorary bricks to be placed around the new Gazebo. The first order of bricks has been laid. Dale Lovett is the Chairperson for the project. Order forms are available from members of the Auxiliary or through the Hospital Atrium Gift Shop.
Dates to mark on your calendar: September 23/24 InDesign will be set up in the Education Building,. The annual Hamilton Hospital Health Fair, Saturday October 17, 7 a.m.– 10 p.m. November 19 Auxiliary Bake Sale.