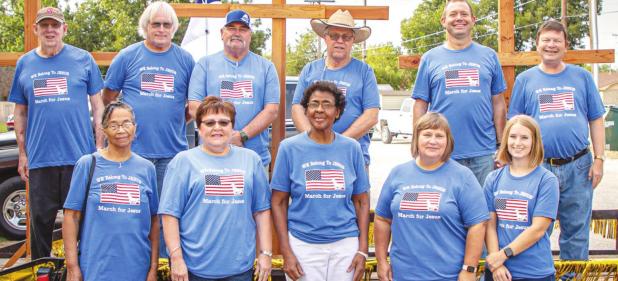 Community Marches for Jesus
Thu, 10/07/2021 - 12:00am
By:
Ronni Walker, Mmc | Publisher
On Oct. 2, the community rallied together to march down Main Street for the 23rd time to honor Jesus and be a beacon of light in Olney. The March for Jesus founder Verma Fobbs said.
Fobbs, along with March for Jesus committee member David King, paused to comment on their vision. Although participation was not as significant as in previous years, they feel the event was still successful considering the other activities on the same day.
"We know there's a lot of activity going on, and we respect that, but we are meeting because we know that we need to be the light of this community, whether it's a large crowd or a small one," Fobbs said. "God said, "Where two or three are gathered in my name, I will be in the midst,' and I promised him 23 years ago that I would march for Jesus if I had to do it by myself."
Fortunately, Fobbs did not have to march alone, as she had help from a committee and volunteers who rose to the occasion to ensure the event's success. The event attracts volunteers from churches such as Paul, Anne, and Kristi McQueen's band and Kolby King's mystical entertainment. The people who share the same vision for the community work together every year to provide an opportunity for people to be saved outside of the four walls of a church.
"God does not want us to forsake fellowship within the church, but it is the saved people who are in the church. We need to reach the lost people that are outside of the church," King said, emphasizing, "We must have a heart for those outside the church. We must have a heart for people who are lost in this town."
The annual March for Jesus event shows the heart of Christians in the community who want to follow in Jesus' footsteps by taking ministry to the people. The event organizers said they look forward to doing this again next year and hope more churches and volunteers will get on board with their vision. For more information about how you can participate, contact Verma Fobbs through First Baptist Church of Olney.