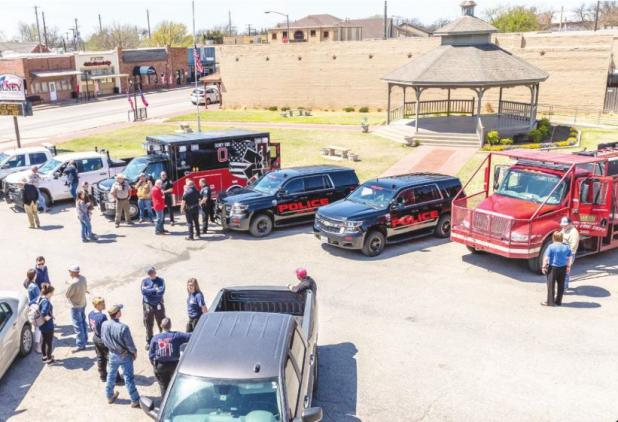 Red & Blue Ceremony
Thu, 04/15/2021 - 12:00am
By:
Will Sadler | Photojournalist
On April 1 all across Texas, law enforcement held a ceremony that only lasted minutes, but had a deep meaning. The ceremony was called "Red and Blue." Texas Governor Greg Abbott called upon all Texas Law Enforcement Agencies to turn on their lights at exactly 1:00 p.m. on April 1 in honor of Texas Trooper Chad Walker.
Chief Birbeck of the Olney Police Department answered this call quickly-- organizing all of Olney's first responders, along with the Olney Police Department, into a line-up in front of the Olney Gazebo. After some organizing of the emergency vehicles by Chief Birbeck, the Olney Police Chaplain Frankie Bailey gave an invocation for Texas Law Enforcement and Trooper Chad Walker.
Texas Trooper Chad Walker was shot after stopping to render aid to a disabled vehicle near Mexia, Texas. The driver of the disabled vehicle immediately exited his vehicle and fired upon Walker. Walker later died from wounds received by the shooter. The cowardly shooter later took his own life.