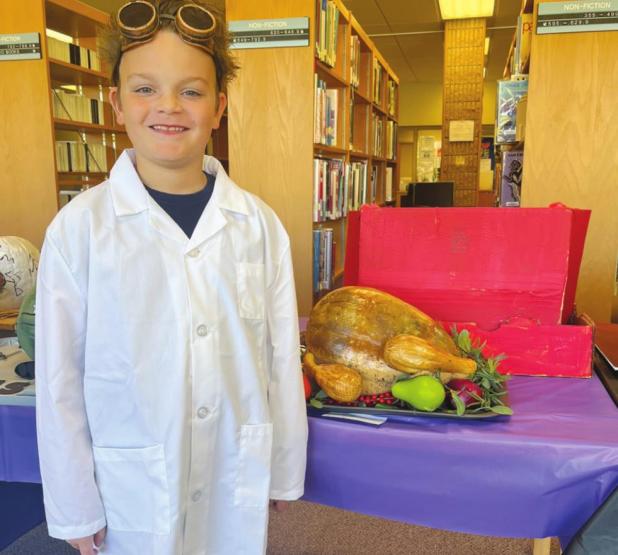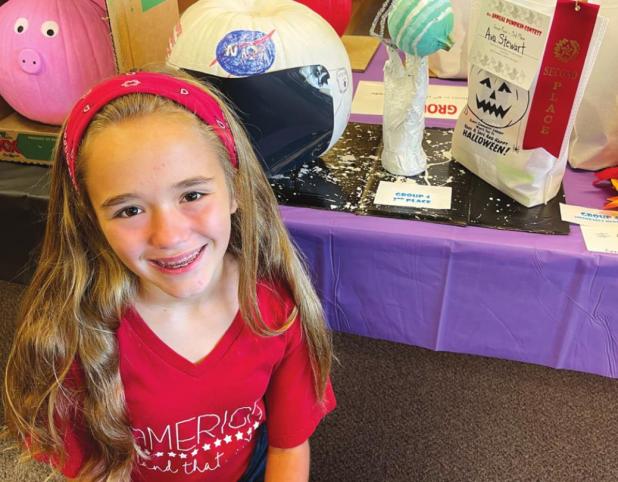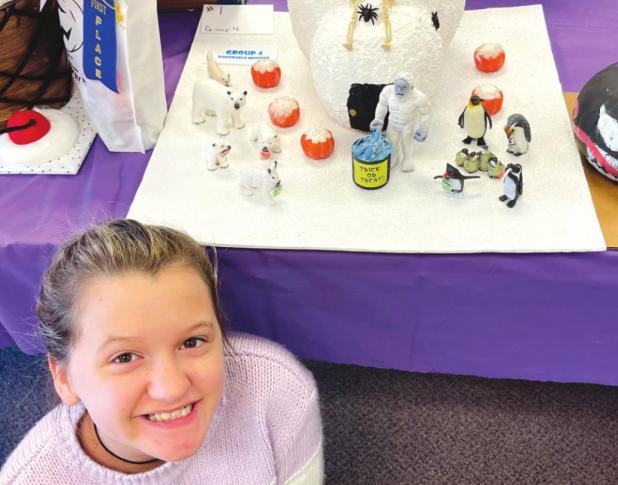 OCLAC'S 41ST Pumpkin Contest
Thu, 11/11/2021 - 12:00am
By:
Carol Vorel, Children's Library Olney Community Library And Arts Center Photos Submitted By Olney Community Library
The crisp air, changing leaves, and the end of summer urge us to break out the carving knives and carve jack-o-lanterns. Pumpkins with scary faces and beautiful artistic carvings are a sure sign of the Halloween season. According to Better Homes and Gardens, the majority of the 1.5 billion pounds of fresh pumpkin varieties grown in the U.S. each year are sold for Halloween. And according to Statista.com, it is estimated that 146.44 million American people plan to carve pumpkins in 2021. So, October and November find that we will buy pumpkins to decorate outside and inside our homes. Maybe some will go to the extent of baking a pumpkin pie from fresh pumpkins and continue these traditions into the Thanksgiving holiday.
At the Olney Community Library and Arts Center, we never like to miss an opportunity to connect with our community for some spooky (and artistic!) Halloween fun.
The 41st Annual Pumpkin Contest was held from Wednesday, Oct. 13, until Friday, Oct. 22. Participants were instructed to bring only decorated pumpkins using paint, glitter, glue, feathers, or any other art supply to create their vision. The use of pumpkins, gourds, or melons could be utilized with all ages invited to participate.
There were five levels of competition ranging from preschool through adults with assisted and unassisted groups.
Listed are this year's entrants:
Group 1: (children pre-school – 2nd grade; unassisted) Rayleigh Franklin, Addilynn Keeter, Rylan Keeter, James Bond, Chloe Bond, Weston Hickam, Heagan Calhoun, Skylyn Terry, Leo Branum, Jessa Branum, Curtis Williams, Bayleigh Williams, Aubrey Willingham, Wyatt Watkins, Jovany Mendoza.
Group 2: (children 3rd grade -5th grade; unassisted) Laney Kimbro, Caroline Stewart, Ella Richards, Christopher McElroy, Harper Creel, Vivi Bond, Brinkleigh Powers, Miles Branum, Zachary Baran, Kendall Bailey, Chloe McPhie, Kaiten Hughes.
Group 3: (children pre-school -5th grade; assisted) Clayton Guthrie, Jaxon Guthrie, Delilah Lemons, Charleigh Garrett, Cash Reed, Mae Stewart, Colton McElroy, Tanner McElroy, Samuel Hendrickson, Magnolia Caffey, Beatty Sullivan, Emerald Edgington, Huck Branum, Gunn Miller, McKenlee Williams, Avery Green, Case Vincent, Shawn Poteet, Benna Clayton.
Group 4: (students 6th -12th grades) Destiny Gibbs, Robbie Hendrickson, William Hendrickson, Savanah Green, Paul Garner, Cindy Delgado, Sydney Dixon, Araceli Villanueva, Benjamin Baran, Ava Stewart, Cheyanne Burger, Gabriel Watkins, Savannah Jones.
Group 5: (Adults) Summer Branum, Cherie Creswell.
Thanks to all the entrants for a great 2021 Annual Pumpkin Contest event!