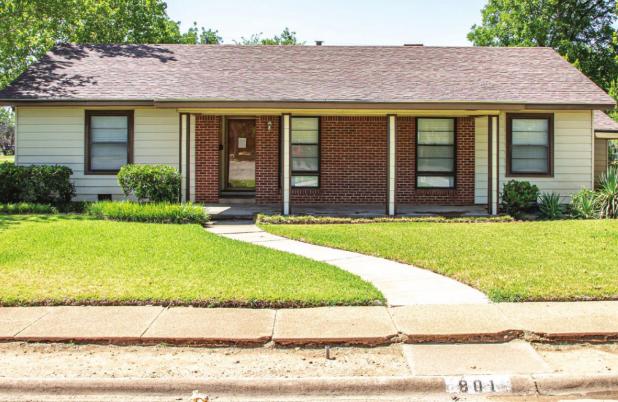 The Harris-Willis House
801 W. Main Street, Olney, TX
By:
Homes Of Olney With Clifton Key
In 1923, H.C. Harris bought this lot in the Oil Boom days and built some kind of structure on the lot. In 1929, he and his wife, Eshter, took out a mechanic's lien to remodel and to add a bath and sewer connection to the property. The Harris's defaulted on the loan, and the building and loan acquired the property in in the trustee's Sale. In 1933, Wright McClatchy (1889-1939) bought the property from the building and loan and used it as a rental property.
In 1951, the tornado laid the top-heavy house over onto the one-story house at 106 S. Ave. K and the house crumbled into pieces. Later in 1951, Adele McClatchy (1896- 1986) as executrix of the estate of Wright McClatchey, sold the lot to her son Donald DeWitt McClatchey (1925-1981) who had married Neva Lou Evans, the daughter of Clester and Winnie (Dunagan) Evans in 1947. Don graduated from Baylor in 1947 and went to Center as the Chamber of Commerce Manager. In 1950, he came back to Olney to work at Olney Savings and became the president in 1963. Don was one of the most outstanding community workers as to school, city and community fund raisers (Library and Hospital). The McClatchey boys Jeffery (1950-2019), Kent, and Scott lived in this house as youngsters and it was so close to the schools that it added to their school lives.
In 1980 the Don McClatcheys sold the house to Michael F. Willis and wife, Janis (Helton). Michael was the son of Justine (Wright) Willis. Michael and Janis had two sons—Steve and Brad. Michael's interest in the house passed to Janis under his will that was probated in 2017 and she remains the current owner.