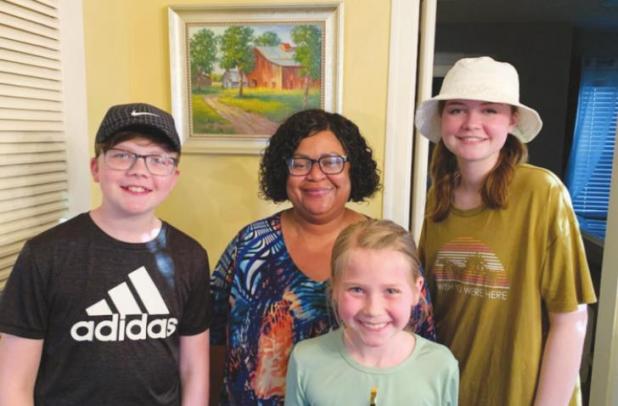 >Guess who's coming to dinner? An evening with The Edgingtons
Tue, 06/15/2021 - 12:00am
Guess who came to dinner? The Edgingtons—Chad, Melissa, Adelade, Sawyer and Emerald— joined me in my home for dinner Saturday night. We sat around the table to enjoy a family-style meal that included Cajun lasagna, salad, garlic toast, homemade macaroni and cheese and baked chicken. I have said it before and I will say it again, sharing a meal is one of the most intimate things you can do with someone.
When I sat down to eat with the Edgingtons, I learned many new and fascinating things about the family. However, the thing that stood out the most for me was the love this family has for one another. Behind the love was respect and inclusiveness. The Edgingtons not only took time to listen to their children, but they also encouraged their participation in the conversation. It was refreshing to see that Chad and Melissa have an old-school perception of family and understand the importance of inclusiveness. The light in their children's eyes was evidence of the authentic relationships they have with each of their children.
The Edgingtons are transparent as they are always under the spotlight. Chad, as pastor of First Baptist Church of Olney, and Melissa as the first lady, our town practically knows everything about their lives. I, however, sought to learn things that everyone may not know. Did you know that Chad is a teacher-turned-attorney with a passion for music? Many of us know that Melissa is a teacher and a superstar blogger, but may not know that she has national recognition for her writing.
"I went to college wanting to be a musician. So, I went to Howard Payne University, completed my student teaching, and then went to Nashville to play in a band for a couple of years while trying to become famous," Chad said. "Melissa and I kind of started dating right before I left college and ended up having a long distance relationship for a while, and then we got engaged. After we married, she moved up to Tennessee with me."
While Chad's band was still practicing in the basement in the evenings, he taught third grade at a private Christian school during the day. Unsure of what his next move was, he decided to attend law school at Texas Tech in Lubbock.
"I graduated in 2004, and I practiced law for five years. Then in 2009, I was called into the ministry. People ask how you went from law to ministry, but really, I've been in the ministry, and I went to law," Chad said, adding that he has always been more of a pastor than a lawyer.
Our conversation shifted to stepping back in time to change something or make better decisions. While Chad said his focus would be enjoying life more and not take everything so seriously, Melissa reflected on making good choices.
"The tough thing experienced in our younger years is that you make so many long-lasting life decisions when you're so young and don't know anything. But that is how you gain experience and wisdom by making mistakes," Melissa said.
As parents of three children—ages 8, 13 and 16—Chad and Melissa said their family is complete but hoped their children would be closer in age. They commented that the ages work out, especially with their oldest daughter Adelade getting her driver's license to shuffle her younger brother and sister around. The Edgington children are not upset about being the subject of Melissa's articles and Chad's sermons. But there is a reason why they are willing to be in the spotlight.
"If we are mentioned in a sermon, we get five spiritual dollars," Emerald said. Chad added that they would ask to be included in his sermons until one day they realized that they never received their spiritual dollars.
After Chad and Melissa shared how they decided on the children's names, the family shared their favorite book in the Bible. Emerald chose Genesis because it "shows how everything was created." Sawyer chose the book of Judges. Melissa said Exodus and the Moses stories are probably her favorite things in the Bible but would also choose a letter such as Colossians or Hebrews. Chad decided on Romans, describing it as the masterpiece of the Bible that explains how it all comes together, selecting Genesis as another favorite because it includes the story of Joseph. Adelade chose Job and called it endearing.
It was a fun dinner. I enjoyed listening to the family converse about the world's best-selling book (The Bible) that binds them together spiritually. Taking time to learn those little known facts about others could very well be the thing that bonds you together with someone.
So, think about who you want to invite to dinner. Get to know them while sharing a meal, find common ground and evolve from acquaintances to friends.