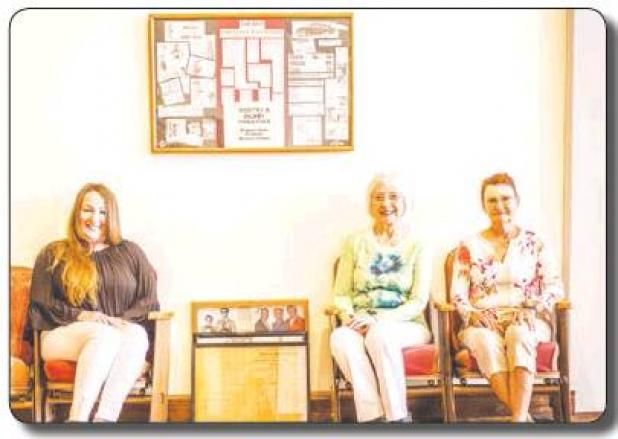 A Day with the docents at Olney Heritage Museum
Thu, 08/08/2019 - 12:00am
The docents at Olney Heritage Museum are excited about hosting a day at the museum. If you want to plan an event such as a class reunion, a family reunion, a reception, or just about any type of event you may have in mind, reach out to the Olney Heritage Museum staff.
The OHM docents, Ann Cumpton, Leatha Hirsch and Lisa Lunsford took advantage of their down time to hang out at the museum and bring attention to the current exhibits. OHM docents are well-versed about everything on display at the museum as they have deep roots in Olney and a rich heritage here.
Some organizations are already taking advantage of the space, which they have
"OHS Sports"
Olneyites have always been huge sports fanatics. We LOVE our Cubs. We hope you will consider sharing your memories with our community and patrons. If you have sports memorabilia such as school annuals/yearbooks, official clothing, or any item related to sports, please consider donating or lending it to the museum. The items pictured were donated by OHS Alumni. The quilt was donated by Richard Lunsford, the quarterback of the winning 1951 team, featuring the names of OHS athletes, many of their families still reside in Olney.
reserved for various upcoming events. You may inquire about availability online at OlneyHeritageMuseum.org or you may give us a call at 940-227-4364. Our docents are looking forward to being of service to you.
You should also consider donating or lending items that are relevant to Olney's history. To donate or loan items, please visit OlneyHeritageMuseum.org Or you may stop by 213 E. Main Street.
Take a moment to take a sneak peek at some of the artifacts on exhibit now. We encourage you to take a walk through the museum vua the pictures below. The docents certainly enjoyed their day at the museum. We are certain you will enjoy your day at the museum, too.