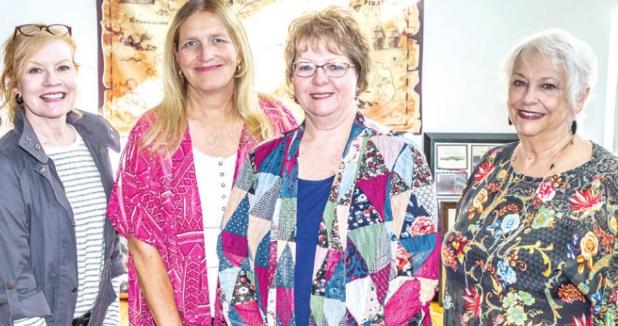 Amity Club Meeting & Treasure Hunt
Thu, 11/19/2020 - 12:00am
On Thursday, Nov. 5, The Amity Club held its monthly meeting at Olney Heritage Museum. "Treasured Friends" was the theme, and the meeting began with a treasure hunt. There were four teams comprised of a minimum of four members who worked together to find clues that led to the final treasure. Ronni Walker was the program leader, and the co-hostesses were Judi Winslow and Rita Choat.
After the treasure hunt, the ladies enjoyed refreshments and a delightful treasure chest cake designed and made by Shannon Rodriguez (www.facebook.com/ablissfulbash). Judi Winslow made pumpkin cupcakes that had a hidden treasure. Rita Choat made "Treasure" Tea to serve with the refresh
ments. President Bobby Wright opened the meeting and asked each member to select one word to describe a treasured friend during roll call. The Recording Secretary, Marilyn Norris, read the minutes from the previous meeting. After the minutes were approved and accepted, Lucretia Taylor presented the Treasurer's report. The new members Michelle Pham and Donna McCluer were welcomed. Judi Winslow made a brief presentation about the upcoming T-shirt sales for the Olney Hamilton Hospital Auxiliary. Next, the members discussed making a memorial donation in honor of Frances Key, a member of the Amity Club for more than 50 years. The members decided to purchase a commemorative brick at the OHH garden gazebo. The meeting ended with Rita Choat's presentation of menu choices for the final meeting of the year at the Graham County Club. Also, members submitted donations for the Olney Fire Department's Children's Christmas Fund.
All members were present except Judy Averett, Phyllis Whitsitt and Betty O'Dell.